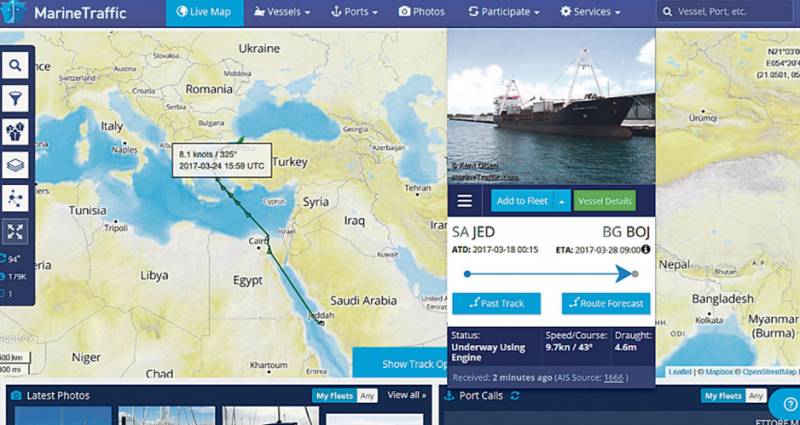 Unprecedented supply of infantry and infantry
weapons
from Eastern Europe to the Middle East - both new and from warehouses - has been observed since 2013. This is due to the ongoing US and their local allies, especially Saudi Arabia and the United Arab Emirates, buying Soviet and East European models to equip the Syrian "opposition".
The center of the collection of "help" for the opponents of Assad is Bulgaria. It turned into a kind of hub where weapons from Eastern European countries flow. And Bulgaria is actively adding products of its own production to these deliveries.
Soviet swing
In former times, Bulgaria, being one of the faithful members of the Warsaw Pact and the Council for Mutual Economic Assistance, played an important role in the socialist division of labor in the military-industrial respect, largely ensuring the supply of small arms, infantry, anti-tank weapons and ammunition manufactured according to Soviet designs and licenses. . To this end, large industrial complexes were created - the Arsenal plant in Kazanlak (formerly Friedrich Engels Machine Building), which manufactures small-arms, grenade launchers, mortar weapons and ammunition, as well as the Vazovskiy machine-building plant in Sopot, which produces the Malyutka ATGM and Faktoriya , "Fagot", "Competition" and "Metis" plus artillery, rocket and grenade launchers. After some decline in the post-communist period, both enterprises are now experiencing real flourishing, rising to large orders of weapons and ammunition for wars in Syria, Iraq, and Yemen.
It is significant that in official reports to the UN Register of Conventional Arms for 2014, 2015 and 2016, Bulgaria itself declared a significant scale of military exports. For the specified period, it appears: the delivery of 280 BMP-1 infantry fighting vehicles to Iraq (while the import of the same 280 BMP-1 from the Czech Republic is declared), 18 152-mm D-20 towed howitzers, 1190 mortars, 40 23-mm
aviation
guns, 210 ATGL-N heavy-duty anti-tank grenade launchers (Bulgarian analogue of SPG-9), 4041 underbarrel grenade launcher, 4370 machine guns (including 700 caliber 12,7 mm), 11 824 assault rifles.
To equip the Syrian opposition with Bulgaria in 2014 – 2016, according to reports in the register, Saudi Arabia supplied 19 with MT-LB, 1295 armored mortars, 80 PU 9P135М portable anti-tank missile systems "Konkurs" / "Phagot"; SPG-28 and 23 anti-tank grenade launchers of their Bulgarian counterparts: ATGL-H, XNuchrs RPG-290 and 9 of their Bulgarian counterparts: ATGL, XNUMxXX-mm XGUMUM anti-personnel MSGL anti-personnel grenade launchers and / or their Yugoslav counterparts -Ghun-736-mm MSGL anti-personnel grenade launchers and / or their Yugoslav analogues 700-mm, 7 X NUMX-mm DShK and 100 machine guns, 1970 40 machines. To the United States, for the same purpose, for the same purpose, Sophia, 6. Bulgarian analogues ATGL-H, 2300 RPG-210 and 14,5 of their Bulgarian analogues ATGL, 370 12,7 rifles, 4190 machine guns, 36 machine guns.
The United Arab Emirates has become another recipient of weapons from Bulgaria in recent years. Abu Dhabi buys it, as can be judged, to supply anti-Houssite forces in the Yemeni civil war. Bulgaria has announced the delivery to the UAE of four ATNS 9K115 "Metis", 160 machine guns of 14,5 caliber of a millimeter and 213 Bulgarian ATGL anti-tank grenade launchers.
Write - "from Bulgaria"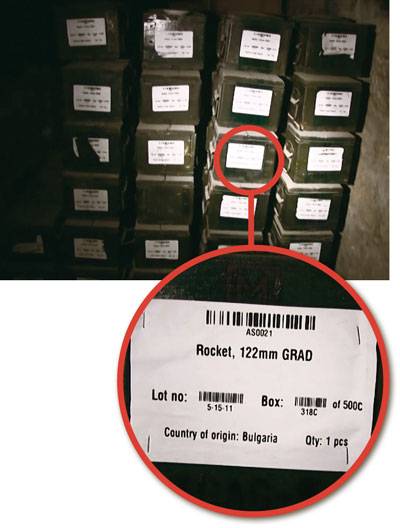 A significant part of these weapons was purchased in third countries. According to Bulgarian reports in 2015 – 2016, 350 mortars, 400 DShK machine guns and 500 RPG-7 (all made in China) came from Albania; from Serbia - mortar 1993, two portable launchers 9P111 "Malyutka" ATGM, six 20-mm anti-aircraft guns, four automatic anti-personnel grenade launchers, a "юNUMX anti-personnel grenade launcher, 800-6 40 6-mm anti-personnel grenade launchers, a" RIGHTUMENTUM ", and a 99% NNXX anti-personnel grenade launcher to Saudi Arabia), 6 CPVT, 53 277 machine guns, 12,7 machine guns and 1385 rifles; from Montenegro - 3009 machine guns DShK and 110 machine guns; from Croatia - 100 six-gun 1000-mm anti-personnel grenade launchers RBG-40 and 6 machine guns; Romanian - 360 LNG-220, 9 RPG-1795, 7 memory-191, 23 own quad antiaircraft gun installations MR-98 4 millimeter caliber, 14,5 276-mm anti-aircraft gun installations TAL, 14,5 CPV and 22 DShK; from Poland - 240 38-mm cannons, one BRDM-100, 2 self-propelled off-rover ATGMs on the chassis of the BRDM-12, one ZSU-2-23 "Shilka", eight ZU-4, ten 23-2 reps, as a matter-of-defense team, one in charge. "Bassoon" and four PU 14P28 ATGM 9К135 "Metis", six RPG-9, 151 KPVT, 9 115-mm machine guns, 7 machine guns; from the Czech Republic - 23 BRDM-50, 12,7 SPG-90, 12 machine guns and 2 machine guns; from Slovakia - nine BMP-41, 9 unspecified armored personnel carrier, 1100 combat vehicles MLRS BM-8500 "Grad", six 1-mm howitzers, ten AGS-33, 15 machine guns DShK; from Belarus - 21 PU 122P17M ATGM "Competition" / "Fagot" and 17 AGS; from Austria - 240 machine guns and 9 machine guns (presumably in transit from Albania); from the UK - 135 machine guns of Soviet samples caliber 140 millimeter.
Not surprisingly, in 2016, Bulgaria established
historical
national defense export record. According to a report by the Interdepartmental Commission on Export Controls and the Non-Proliferation of Weapons of Mass Destruction, the country exported weapons for an unprecedented billion euro. Compared to 2015, the supply of arms abroad grew by 63 percent, and its production in Bulgaria exceeded the indicators of socialist times.
The largest client of Sofia in 2016 was the government of Iraq, which received military property on 259 million euros (100 million euros more than in 2015). Saudi Arabia (239 million euros) and the United States (97,8 million euros) are located on the second and third places - countries that ship Bulgarian weapons and ammunition of Soviet models to militants in Syria. Official deliveries to these two countries made up one third of Bulgaria's total arms exports and increased almost three times compared to 2015 - from 121 million euros to 336,2 million. 80 per cent of the nomenclature for Saudi Arabia was classified as "weapons of a caliber larger than 20 millimeters and launchers", "ammunition" and "missiles, bombs and missiles". For the United States, their share in total supply reached 90 percent.
According to the specified report on the activities of the Bulgarian "weapons hub" in 2016, Sofia signed contracts for the import of weapons with Belarusian enterprises for 84 million euros, and in fact Bulgaria received weapons for 15,9 million euros (in 2015-m - for 37,8 million euros). Their main part - again, "weapons of caliber over 20 millimeters and launchers," "ammunition" and "missiles, bombs and missiles."
Interestingly, according to published official data of the Ministry of Foreign Affairs of Romania in 2016, transit of Bulgaria proceeded to Bulgaria through Belarus in the amount of 84,2 million euros (in 2015 - 27,4 million euros), which included "portable rocket launchers, 122 caliber shells millimeters, RPG grenades, rockets, armored vehicles and airstrikes. "
However, officially Minsk is not the largest supplier of weapons from Eastern Europe to Bulgaria. In 2016, the first position here was taken by Belgrade, which sold Sofia weapons for 34,6 million euros. The second and third lines are divided by Bucharest and Prague (19 million euros). Other major suppliers are Poland, Croatia, Slovakia, Ukraine, Bosnia and Herzegovina. These countries also supplied Bulgaria with predominantly "weapons of a caliber larger than 2016 millimeters and launchers," "ammunition," and "missiles, bombs, and missiles." All this property, as is easily understood, was transiting to the Middle East.
Bloody silk road
An investigation of the Bulgarian journalist Dilyana Gaitandzhieva revealed the activities of a large logistical network of secret armament traffic organized by Saudi Arabia and the United States. With money from KSA and military companies affiliated with the Pentagon, weapons of Soviet designs (both old and new) were bought in Serbia, Romania, Bosnia, the Czech Republic, Bulgaria and other Eastern European countries under the formal pretext of supplies for the security forces of Afghanistan and Iraq, which then it was exported through Bulgaria mainly to the Middle East, including for the secret supply of the Syrian armed opposition. Azerbaijan was a major logistics hub for weapons to final recipients, and one of the main carriers on Il-76 and Boeing-747 cargo planes was (and apparently remains) SilkWay, which is closely connected with the current leadership of the country. Formally, deliveries were carried out on civilian aircraft with a special diplomatic status, which made it possible to avoid essentially checking cargoes, which is necessary to maintain secrecy.
SilkWay carried military assets acquired in Eastern Europe by Saudi Arabia under the guise of diplomatic cargoes directly to Jeddah and Riyadh. 2016 and 2017 recorded 23 "diplomatic" flights that brought weapons from Serbia, Romania and Bulgaria to KSA. The same channel was used by the Americans and to arm the Syrian Kurds. Their formations received more than 300 tons of weapons through Iraq.
Even more are the sea shipments from Bulgaria of weapons purchased by Saudis. In April 2017 of the year, it was reported that flights of "Voentorg" from Bulgarian Burgas to Saudi Jeddah are carried out twice a month.
The press reported that the Vazovsky Machine-Building Plant (VMZ-Sopot) has contracts for the supply of weapons with two US companies - Chemring (with a subsidiary Chemring Ordinance) and Orbital ATK. Both carry out orders of Washington under the program for the acquisition of non-standard weapons and ammunition "intended for the needs of the United States and its allies." Chemring alone in 2016 year entered into two contracts totaling 47 million dollars for such products, in this case Bulgarian production. Orbital ATK received a contract from the US Department of Defense for the supply of non-US weapons worth 50 million dollars for the same program 27 in January 2017, also transferring it to Vyksa.
It is not surprising that according to the statement of the Executive Director of VSW Ivan Getsov, according to the results of 2016, the growth of the company's profit amounted to fabulous 400 percent. According to the Bulgarian Minister of Economy Bozhidar Lukarsky, in the first half of 2016 alone, sales of VMP increased 4,5 times - from 20 million dollars to 91 million, and by the end of the year the output volume was estimated to be 135 million. Since 200, the number of VMZ employees has almost doubled, and by the beginning of 2015, 2017 people have reached. The average salary at the plant, according to the same Getsov, rose to 4400 dollars (two and a half times) and one and a half times higher than the average in Bulgaria.
But before the 2014, the Vazovskiy Machine-Building Plant, like many defense enterprises of Eastern Europe, was on the verge of bankruptcy due to the lack of orders and debts to suppliers in the amount of about 60 million dollars. The Bulgarian government tried unsuccessfully to sell it, the company regularly went on strike because of wage delays. Now the Bulgarian defense industry is "reborn", working tirelessly for the needs of jihadists and other armed groups in Syria, as well as those who are fighting terrorists in the same Iraq.