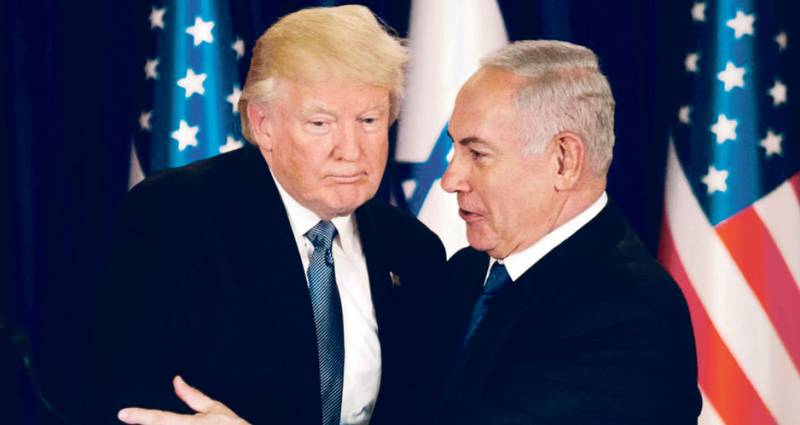 In the final round of debate during the presidential election campaign in 2016, Hillary Clinton publicly described Donald Trump as a puppet of Russian President Vladimir Putin. However, it is becoming increasingly clear that Trump has another, more traditional for American politicians, puppeteer - Israeli Prime Minister Benjamin Netanyahu.
In the time since September 18, when the two met in New York at the UN General Assembly, Netanyahu pulled Trump on strings on almost every foreign policy issue. It can be argued that the "puppet-puppeteer" relationship started much earlier, but, as I was told, Trump tried to show signs of disobedience.
For example, at first, Trump opposed (https: //consortiumnews.com/2017/08/25/the-possible-education-of-donald-t ...) Netanyahu's demands that the United States be more involved in the Syrian conflict. In particular, he ordered the CIA to cease operations to support the "rebels" who are at war with government forces. He also made a statement that the US policy under his administration would not contain the goal of regime change in Damascus.
Immediately after these statements, Netanyahu achieved some success, forcing Trump to reconsider his decisions and launch 6 on April with an 59 strike with Tomahawk missiles at a Syrian airbase. This attack was followed after one of my sources in the US intelligence community described a chemical incident as a dramatization.
weapons
(https://consortiumnews.com/2017/04/12/trump-withholds-syria-sarin-evidence/) by operators from al-Qaida (banned in the Russian Federation. -SD) in a city controlled by the rebels Khan Sheikhun in the province of Idlib. Zarin, if used, was most likely delivered by an unmanned aerial vehicle from a Saudi-Israeli special forces base in Jordan. And Trump, who, quite obviously, was deceived, still stood up and was not ready for a complete revision of his policy in Syria.
Then in May, Trump chose Saudi Arabia and Israel as destinations for his first overseas tour. At the same time, he followed the advice of his son-in-law Jared Kushner. But as I was told, Trump returned from this journey, feeling somewhat humiliated due to the intrusive behavior of the owners, when he was dragged into ceremonial dances with sabers in Saudi Arabia, and in Israel he was confronted with a condescending attitude on the part of Netanyahu.
And in the summer, Trump listened to advice on a possible complete revision of US foreign policy, which would include restraining the regional ambitions of Israel and Saudi Arabia, opening doors for diplomatic dialogue with Iran and solving the Korean crisis through mediation in the negotiations between the North and South .
There was even an option like "Nixon-rides to China", when "tough guy" Trump would meet with Iranian President Hassan Rouhani, and the two states would restore diplomatic ties. As a result of this process, American companies would get good chances to compete successfully in the Iranian market.
The proposed steps had the advantages that they could have resulted in defusing international tensions, saving US financial resources by not participating in future military adventures and freeing American corporations from constraining their demands for compliance with economic sanctions. That is, all this lay just in line with the "America First" strategy, which Trump promised to embody in his electoral base consisting of the working class.
Instead, in conversations 18 September in New York, the US president again pulled the strings. At the same time, even for the people who participated in these events, it remains a mystery how Netanyahu did it. My source said that one of the instruments of influence is the substantial Israeli financing of the Kushner family's real estate agency. Although according to the officially submitted financial statements (http://pfds.opensecrets.org/N99999865_2016.pdf), Jared Kushner has only one loan in one of the Israeli banks. The amount is five million US dollars, it was issued to Jared together with his father in the Israel Discount Bank. The headquarters of the political campaign and legal defense fund (https://consortiumnews.com/2017/10/12/how-trumps-iran-decision-invites-war/) of Trump himself has major financial donors supporting Netanyahu and actively speaking for the war with Iran. They include casino mogul Sheldon Adelson, who donated 35 millions of dollars to Trump's Future 45 electoral committee. Adelson has publicly called for a nuclear bomb to be dropped on Iran as a "negotiating tactic." So Netanyahu has a whole set of "strings" at his disposal for which you can "pull".
Transition to pompous sermons
And September 19 Trump turned his first speech before the UN General Assembly into a pompous militant sermon. He made personal insults to the North Korean leader Kim Jong-un, calling him a rocket man and threatening to totally destroy his entire state with a population of 25 million people. In addition, Trump, like a parrot, repeated Netanyahu's call to implement a regime change project in Iran.
Most of those diplomats who made up the UN General Assembly, sat motionlessly, as if struck, silently listening to Trump threatening to launch aggression from the rostrum of an organization created precisely to prevent the scourge of war. The only notable exception was Netanyahu, who applauded with enthusiasm to his success - Trump's pull-in operation into the neocon camp.
Thus, instead of dragging US policy away from the abyss of confrontation, Trump threw aside diplomacy, and this despite the fact that intermediaries had already been sent to establish contacts with the Iranians and North Koreans. Instead of following his campaign promises, Trump chose the classic neoconservative approach. He simply put on his defeat the rhetoric "America first."
This speech at the UN put American mediators in an extremely difficult position: how to explain to their contacts in Iran and North Korea, why Trump refused the messages, which they have already started. At the same time, in a private conversation with one of my sources (https://consortiumnews.com/2017/10/06/president-zigzag/), Trump explained that he just wants to "go zigzag" to the ultimate goal, which supposedly and has not changed.
There was also tension within the administration. So, at the end of September, during a visit to China, Secretary of State Rex Tillerson unexpectedly announced the conduct of backstage talks with North Korea.
"We are conducting a sounding, so watch the events carefully," said Tillerson. - We asked if you want to negotiate. We have lines of communication with Pyongyang. We are not ignorant, not in the dark. " He added: "We have a couple of channels open with Pyongyang ... We are negotiating with them ... Directly. We have our own channels. "
In response to Tillerson's initiative to develop backstage communication channels, Trump made such a nod to Netanyahu and the neocons, which outweighed his loyalty both to his own secretary of state and to those intermediaries who, on behalf of Trump, took risks and now find themselves in a difficult situation.
In tweets, Trump began to downplay the very idea of ​​dialogue with North Korea: "I told Rex Tillerson, our wonderful secretary of state, that he wastes time wasting negotiations with Rocket Man.
"Save your strength Rex," added Trump, before expressing yet another poorly disguised threat of a military strike, "We will do what needs to be done!"
It may seem that Trump's renunciation of Tillerson will look like another zigzag. But it is not yet clear if this explanation of his actions by Trump is another "zigzag" another lie. Most likely, none of these are not "zigzags", but, on the contrary, a clear following in a straight line drawn by Benjamin Netanyahu.
Meanwhile, in Syria, he seems to have received many concessions from Trump. US forces are supporting the remnants of Islamist gangs, Russian officials say. Their accusations suggest that the US secretly assists terrorist groups with weapons, advice, and intelligence.
In other words, Trump seems to be continuing US military intervention in Syria - just what Netanyahu wants.
Get in line!
Trump continues to demonstrate that he is following Netanyahu's marching orders and is burning all the bridges leading to a sensible diplomatic dialogue. October 13 Trump repeated all the fabrications of Israeli propaganda. His speech on Iran (https: //www.whitehouse.gov/the-press-office/2017/10/13/remarks-president ...) was so ridiculous that it is almost impossible to analyze it seriously. It is on a par with President George W. Bush's son's insane rhetoric when he announced the presence of an "axis of evil", absurdly linking Iraq and Iran (warring with each other), as well as North Korea combined with false statements about Iraq's weapons of mass destruction and on cooperation with al-Qaeda.
The October 13 speech looked like the author's work of John Bolton, one of the neoconservative advisers to Bush. By the way, Bolton was seen entering the White House just a few days before Trump made his speech. Trump repeated all the old nonsense, linking Iran with al-Qaeda, thinking, probably, that the American people still do not understand that the latter is a terrorist group consisting of Sunni fanatics, which sees the West and all Shiites as targets. , that is, Muslims of the religion that prevails in Iran. Al-Qaeda views these Muslims as heretics deserving death.
The inconvenient truth is that al Qaeda has long been associated with Saudi Arabia, which has been supporting these fanatics since 80, since the time when Saudi citizen Osama bin Laden received support in conducting jihad in Afghanistan against the Soviet troops who tried to defend the secular regime there.
And although officially the Saudi monarchy insists that it is against al-Qaida, Saudi intelligence has used it as a non-traditional military force deployed to destabilize and terrorize its opponents both in the region and around the world.
As Israel formed an alliance with Saudi Arabia in recent years, it expressed its preference for Al-Qaeda to win in Syria (https://consortiumnews.com/2015/03/30/deciphering-the-mideast -chaos /). Especially if it is necessary to destroy what Michael Oren, the former Israeli ambassador to the United States, and now the deputy minister under Netanyahu, called the Shiite "strategic arc", stretching from Tehran through Damascus to Beirut.
One of the most frequent complaints of Israel against Iran is that Tehran is helping the sovereign government of Syria defeat al-Qaida and its militant allies, as well as the "Islamic State" (banned in the Russian Federation. - SD) - a byproduct of its life. This alone can tell a lot about the areas in which Netanyahu's attachments lie.
Perverse Media
Still, no matter how dishonest Trump's speech on Iran is, the US media does not criticize it as it deserves, because almost all writing journalists and "talking heads" have long swallowed the anti-Iranian bait abandoned by Israel. They now and again repeat the long-standing newspaper "duck" that Iran is "the main sponsor of terrorism in the world," although it is perfectly clear that this title should be relegated to at least the Saudis and Qatari.
Major Western media outlets also swallowed up all the sophisticated propaganda directed against Assad and his government, especially the allegations of attacks with chemical weapons. At the same time, all evidence that these attacks staged Al-Qaida assistants and their collaborators in the field of "civil defense" was ignored. And these performances served as grounds for provoking US military intervention.
So in October 13's speech, Trump advertised one of the oldest "ducks" about Iranian "terrorism", referring to the explosion of the Marines' barracks in Beirut in 1983, which resulted in 241 killing an American. In fact, that explosion was organized and carried out by Lebanese Shiite fighters. When the attack took place, I worked for the Associated Press as an investigative journalist for national security issues. And if the role of Iran in this attack remained unclear, it was obvious that this attack was not a "terrorist act", since "terrorism" is usually defined as violence against civilians in order to achieve a political goal.
American marines were not only not civilians, but the Reagan administration made them party to the Lebanese internal conflict when they ordered the US Navy ship New Jersey to bombard Muslim villages. Reagan's national security adviser, Robert McFarlane, who often represented Israel's interests within the administration (https://consortiumnews.com/2015/07/28/when-israelneocons-favored-iran/), advocated the broader participation of the American armed forces in Lebanon . It was this involvement of the US military that killed civilians that convinced Shiite militants that the United States had joined the war against them.
And they struck back, blowing up the multi-story barracks of the Marine Corps in Beirut with a truck loaded with explosives. Reagan hurriedly moved the marines to the ships. Inside the Associated Press, I unsuccessfully challenged the decision to call the attack in Beirut a "terrorist attack." All
news
organizations used this exact phrase. However, even senior presidential officials recognized the truth.
Later in the memoirs of My American Journey, General Colin Powell wrote: "When the shells began to fall on the Shiites, they realized that the American" judge "stood on one side." In other words, Powell, who at the time was a military adviser to Secretary of Defense Caspar Weinberger, recognized that the actions of the US Armed Forces in the eyes of the Shiites changed the status of marines. (Although this "terrorist act" is always blamed on Hezbollah, officially this group arose only in 1985 in the form of a resistance movement against the Israeli occupation of Lebanon.)
Against Putin
So, Trump is now moving toward wars against both North Korea and Iran. Russian President Putin does not approve of either. Putin, who played a key role in helping President Obama achieve a nuclear agreement with Iran, is now in opposition with the Europeans in opposition to Tramp's "de-certification".
Putin is also in favor of an early end to the Syrian conflict in defeating al-Qaeda and its allies. He wants peace talks with North Korea in order to provide her with guarantees of security against aggression from the United States. In relation to all these priorities of Putin, Trump is in opposition.
If Clinton really was right, calling Trump Putin's puppet, he would have to agree to negotiate a solution to the crisis around North Korea, choose a course of constructive diplomacy towards Iran, completely stop supporting militants in Syria and facilitate an early end to the bloodshed in this country .
Instead, for each of these problems, Trump is moving in a diametrically opposite direction, taking up order with Netanyahu and the neocons, which some European allies call Israeli agents in America. Putting his capitulation before Netanyahu into the phrase "tough guy," Trump does the same thing as most American politicians, he cringe before Bibi Netanyahu.
And if you have any doubts about this, you can simply see with what frequency both the Republicans and the Democrats jump up and stand standing up every time Netanyahu speaks at a joint meeting of the congress. He was honored with this honor three times; according to this indicator, he caught up with British Prime Minister Winston Churchill.
These moments of all-American humiliation, when almost all 535 members of Congress act like puppets on invisible threads, demonstrate genuine servility and subservience of US authorities in front of a foreign power. And this power is not Russia.
President Trump is just the last of those American politicians who are tugging at Israeli Prime Minister Netanyahu.