The ceremony of introducing the patrol ship CG 60 Suraksha, which became its largest unit, to the Coast Guard of the country (Sri Lankan Coast Guard), took place in Colombo (Sri Lanka).
bmpd
with reference to defpost.com.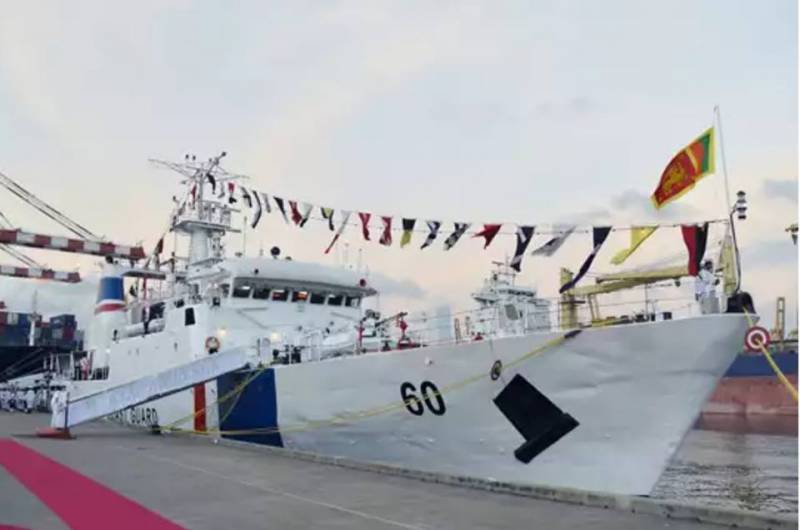 The CGS 36 Varuna is one of the nine 1180-ton 74-meter patrol ships of the Indian Coast Guard of the nationally built Vikram 1980-s. Launched in February 1988. For the past ten years, it has been used by the Coast Guard and the Indian Navy as a joint training ship. Excluded from Coast Guard in August 2017.
Earlier, India handed over to the Sri Lankan Navy another Vikram type patrol ship - the CGS 41 Varaha. It is reported that the ship was transferred to 2006 for a long-term lease, and in 2015 it was finally bought at the residual value by the Sri Lankan side.
In 2008, India also leased the Sri Lankan Navy patrol ship CGS 39 Vigraha, but in 2011 it was returned to its owner.
"Created in 2010 year under the Sri Lankan Ministry of Defense, the coast guard of Sri Lanka until recently had only boats, and now received Suraksha was the first patrol ship in its structure. In 2017, the government of Sri Lanka allocated $ 180 million for the construction of three 85-meter patrol ships for the Coast Guard of the country at the national shipyard Colombo Dockyard PLC, "the material says.