The commander of the 72-th separate mechanized brigade of the Armed Forces of Ukraine "noted" awarding himself with the Order of Bogdan Khmelnitsky of the first degree with shelling of Donetsk. This was announced by the deputy commander of the operational command of the self-proclaimed Donetsk People's Republic (DPR) Eduard Basurin, reports
Donetsk News Agency
.
The task of firing was set personally by the commander of the 72 brigade, Colonel [Andrei] Sokolov. Thus, he decided to "mark" the signing of the decree [of President of Ukraine Petro] Poroshenko on his awarding the Order of Bohdan Khmelnytsky of the first degree
- told Basurin.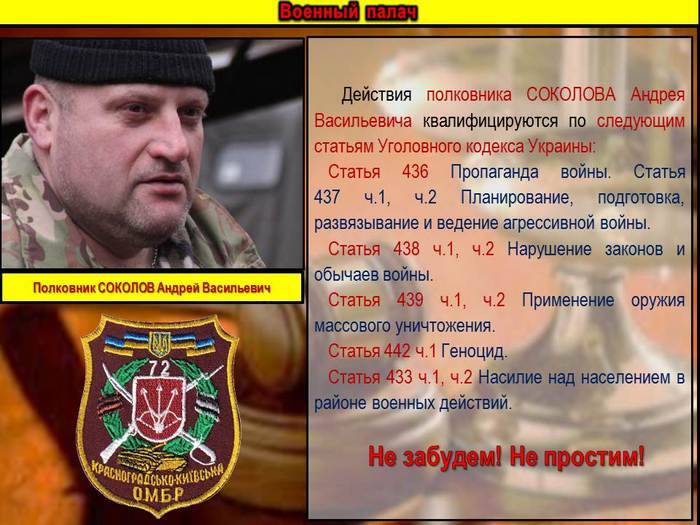 According to the representative of the militia, in the immediate environment, the brigade commander stated that the colonel had accompanied the order to launch a fire strike at the city with the phrase:
Let's hit the countrywomen and let's go for dinner and we will wash the order
Poroshenko visited the location of the 72 Brigade deployed in the Donbass, on October 22, during his visit to the region.
In total, the APU for the past day fired 368 ammunition for the frontline territories of the DPR. This was announced today by a representative of the DPR at the Joint Center for the Control and Coordination of the Ceasefire Regime (STCC), Ruslan Yakubov.
The total amount of ammunition used by the Ukrainian Armed Forces in the territory of the Donetsk People's Republic was 368 units.
- said Yakubov.
According to his information, in just a day, the Joint Center recorded 23 of the violation of the cease-fire regime by enemy units.