The President of Ukraine once again "flashed" incompetence. In his Twitter microblog Poroshenko decided to remind "the whole world" about the "mass deportation of Ukrainians to Siberia." From notes Poroshenko:
Today is the 70 anniversary of the mass deportation of residents of Western Ukrainian regions to Siberia and the northern regions of the USSR. Remember.
The president of Ukraine decided to "tweet" his tweet with a photo that revealed the incompetence of Poroshenko himself and his assistants. Apparently, the person involved in the content of the Twitter page, on behalf of and on behalf of Peter Alekseevich, was not explained that the photograph shows not at all "residents of Western Ukrainian regions deported to Siberia." In the photo - representatives of the Jewish population, who were deported from the Polish city of Lodz by the Nazis during the Second World War.
Director of the Ukrainian Jewish Committee
Edward Dolinsky
commented on the president's tweet of Ukraine like this:
Strange, but in the tweet of the head of state about the 70 anniversary of the mass deportation of the population of Western Ukrainian lands to Siberia, a picture of Nazi deportation of Jews from Lodz to the 1942 death camp was used as an illustration. On the right is the original photo from the Holocaust Museum in Washington.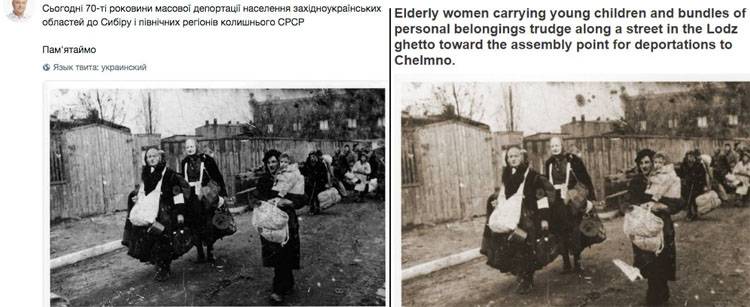 So commented on the publication Poroshenko netizens:
Dzmitry Ziankovich:
How do ignorant know such nuances? What nagugli, then stuck.
Irina Kissel:
Solid fakes. Already even where these documents are.
Garik Gavlin:
This country is already in such a moral and ethical way, that one more shame, one less, no longer important.