Russian intelligence officers and special forces will begin to undergo in-depth mountaineering training, they will be taught not only to storm mountain peaks and passes, but also to conduct military operations in extremely difficult conditions of high mountains, including at altitudes of 5-6 thousand meters, according to
News
.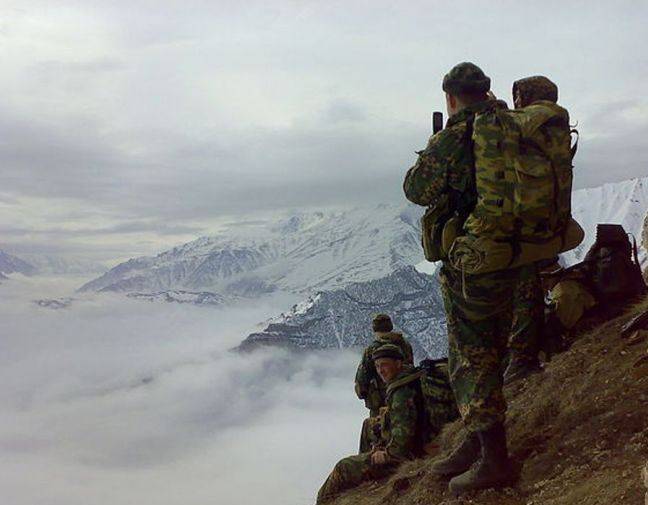 Archive photo
According to representatives of the Ministry of Defense, the decision to introduce high-altitude mountaineering training for special forces soldiers and intelligence officers was made at the beginning of this year. "The training will be held by military units and special-purpose battalions. Scout battalions of deep intelligence will also learn high-mountain science. These units are part of the newly formed intelligence brigades, "- told in the department.
Courses will be held in the center "Terskol" in the Elbrus region.
In the Russian Armed Forces, there is a separation between mountain shooters and combat climbers. "The first ones operate at altitudes up to 3,5 thousand. They are not trained to storm the peaks, to overcome high mountain passes, and when performing combat missions they use the minimum amount of special mountain equipment," explains the publication.
Combat climbers are the elite of the Armed Forces. "They are capable of conducting combat operations at heights of 5-6 thousand m and even higher. Until recently, only fighters of special operations forces, military personnel of two special-purpose mountaineering companies and special forces from separate special forces units of the Southern Military District underwent such training. Now, almost all the special forces should acquire such skills, "the article says.
Not all special purpose units have mountains in their areas of responsibility. They have to act in the forest, steppes, on the coastal direction. But high mountain training is a very important element of the combat training of special forces and scouts. She disciplines very seriously. During the subsequent service, when performing tasks in the open air, she will teach you to approach in detail the issue of collecting equipment and other property. From my own experience, I can say that many after the mountains, the principle of "big boy" is included in my head. What took - so live. And if you have problems in the mountains, then you are to blame. If you hold high-mountain training periodically - the unit will always be in good shape,
The soldier of one of the special purpose units told the publication.
According to the newspaper, the most trained special forces are now serving in the English SAS 22 Regiment, the German KSK Special Task Force and the Italian Monte Cervino 4 Parachute Parachute Regiment.