The Syrian government troops, with the support of the Russian Aerospace Forces, captured the largest stockpile of weapons and armored vehicles of the Islamic State terrorists (IG, a terrorist organization banned in the Russian Federation), found in the city of Meyadin in the east of the country.
Interfax quotes the words of Brigadier General of the Syrian Arab Army Hassan Suheil, who led the operation to liberate the city:
It will take us at least six days to take out all these trophies that the IS militants left here after their flight. There is a lot of
weapons
and various means of communication of foreign production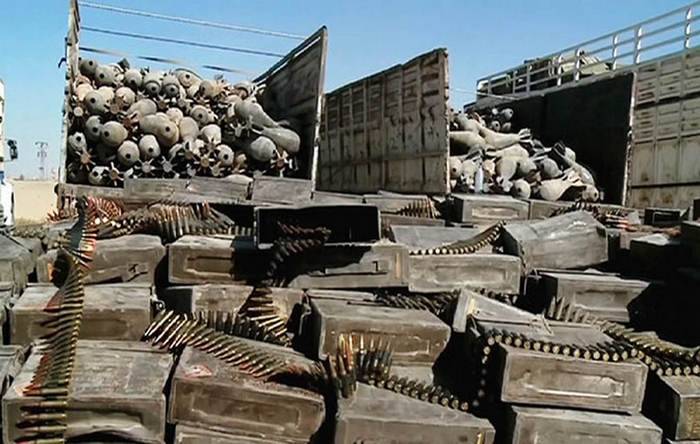 Meyadin was a logistics center with a well-organized system of warehouses and workshops. After his release, the trophies of the Syrian military became small arms and anti-tank weapons, artillery mounts and shells, homemade mines, and
Tanks
and armored personnel carriers previously captured by terrorists from the Iraqi army.
The Syrian military also showed reporters captured in Meyadin satellite communications systems, radar equipment, medical devices and a workshop for the production of UAVs with dozens of ready-made drones used by militants for reconnaissance and precision bombing.
Most of the terrorist arsenal consists of weapons adopted by the NATO countries. In particular, a British-made 155-mm howitzer made in 2011 was discovered at the terrorists 'warehouses in Meyadin.
Meyadin is located forty kilometers southeast of the administrative center of the province of Deir-ez-Zor, on a key highway connecting Aleppo with the city of Abu Kemal on the border with Iraq. Until recently, Meyadin was the most powerful fortified terrorists in eastern Syria, and he was given the status of "capital" of the IG.