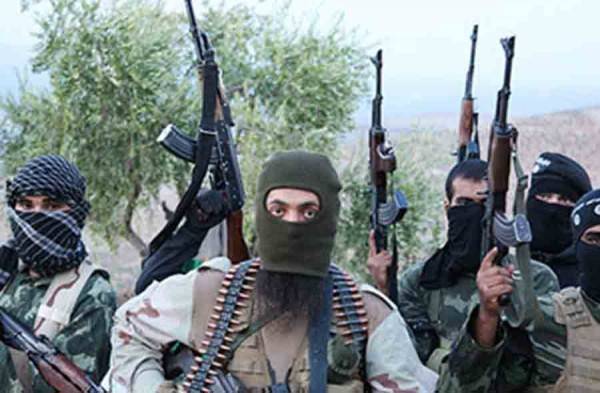 i] The Syrian Arab Army (CAA), supported by the Russian Aerospace Forces, continues to "clean" the eastern shore of the Euphrates from terrorism. On the eve of the successful "cleansing" was held in the settlements of Hashem and El Zebari, Deir-ez-Zor province. [/ I]
Now government troops remain a few kilometers from Abu Kemal - the city on the Syrian-Iraqi border, controlled by ISIS. It is reported that the families of the commanders in a hurry leave a large settlement. Ordinary terrorists are in a depressed state, not finding anything better than to massively desert onto the territory controlled by the Syrian opposition.
The desire to continue hostilities among the militants remains only among the commanders and spiritual mentors of extremists. Trying to delay the advancement of government forces, bandit commanders regularly plan attacks on CAA positions using suicide fighters in jihad mobiles for this purpose.
It is noteworthy that after the Kurdish formations supervised by Washington took control of Raqqa and transferred the main forces to Deir ez-Zor, the interest to drag out military operations in the eastern provinces from militant commanders clearly increased. This can be confirmed by the upcoming ISIS attack on government forces in the area of ​​Marrat.
Why, after the arrival of the Kurds in Deir ez-Zor, who allegedly also fight against terrorism, did not the extremists leave Syria accelerate?
Obviously, reinforcements are now being sent to the radicals from among the igilovtsy who have left Rakka. Among them, many will want to continue to rob and kill the population with impunity. As is known, such an opportunity is still present in the southeast of the province of Deir-ez-Zor.
You also can not ignore the fact that, in addition to personal gain, both Kurds and igilovts are fighting in the interests of one curator, who is known for his distorted ideas about democracy. This means that the parties can agree on many things. Understanding that on the agenda there is a question about the post-war structure of the country, in which the Kurds will play an important role, the commanders of ISIL are preparing for themselves a "warm place" in the government and business structures.
This fully explains why the Kurdish formations, supported by the Americans, were able to repel with ISIL the country's largest oil field, Al-Omar, in a matter of days. Nobody simply resisted them, with the exception of a few gangs, sacrificed to the happy future of their commanders.
As for the clashes with government forces, here the radicals, realizing that they cannot agree with the armed forces, will hold settlements until the last, throwing all the cannon fodder they have from the ranks.