The German government fundamentally approved the delivery of three submarines to Israel, built at the shipyards of ThyssenKrupp Marine Systems in Kiel. About this on Monday, October 23, said at a press briefing for journalists the official representative of the German Chancellor Steffen Seibert (Steffen Seibert), writes the German edition
Deutsche Welle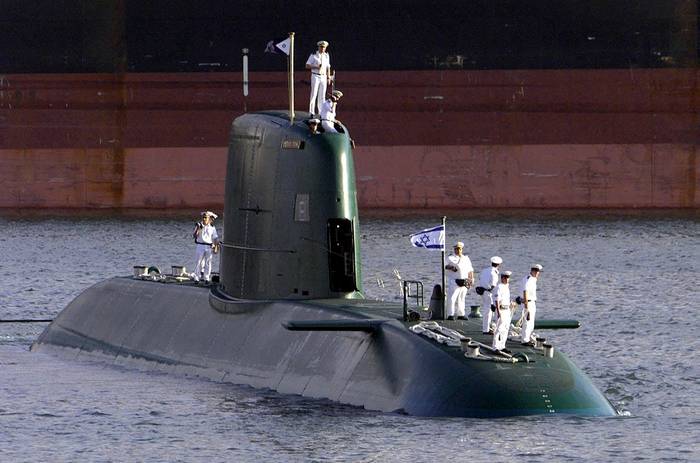 As expected, an intergovernmental memorandum of understanding on this issue will be signed before the end of October 23 day.
The deal is made with the financial support of Berlin, which explains this step by the "special responsibility of Germany for ensuring the security of Israel." The total cost of the agreement is estimated at approximately 1,5 billion euros, specifies dpa.
The conclusion of the transaction was accompanied by a scandal. The signing of the contract was previously frozen in light of the investigation of the corruption scandal in the supply of German submarines to Israel. In July, seven people were arrested in this case; they were interrogated on charges of bribery and money laundering.
Special attention to this agreement was also explained by the fact that the design of the Dolphin class of submarines made it possible to equip them with nuclear weapons in Israel
weapons
therefore, their delivery to the Middle East caused a discussion in Germany. In Israel, the media also reported on the possible involvement of one approximate Prime Minister Benjamin Netanyahu in the deal. At the final stage of the negotiations, "all relevant aspects" related to the conclusion of the contract were taken into account, they assure in Berlin.
Submarines "Dolphin" have an underwater displacement of 1840 tons. Body length - 56,3 meters, width - 6,8 meters. Working depth - 200 meters, maximum - 350 meters. Develop underwater speed to 20 nodes. Autonomy - 50 days. Crew - 30 man.
Submarines are armed with 533-mm torpedoes and harpoon anti-ship missiles.