First in
stories
the passenger ship launched the Kalashnikov. More specifically, the passenger ship was launched at the Vympel shipbuilding enterprise (Rybinsk). The company is a part of the Kalashnikov concern.
This is a high-speed hydrofoil Comet 120M.
The press service of Rostec cites the statement of the general director of the Rybinsk shipbuilding enterprise:
This is an important project for the company, opening up a new direction of our work - the construction of civilian vessels. The construction of five Komets is planned in the near future, and the Ministry of Industry and Trade has supported us in this. In total, we intend to place on the Black Sea about 20 units. By 2025, the civilian product line in our order portfolio should reach 30 percent.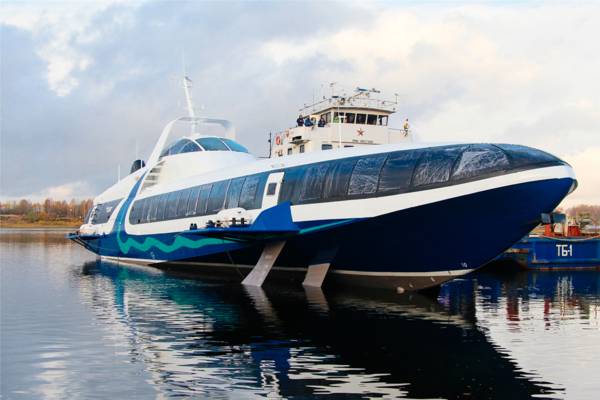 The first "Comet 120M" will serve passengers on the route Sevastopol-Yalta. It is assumed that the first passengers will be able to use this type of maritime transport as early as next year. Engaged in such transportation will be created by the company "Sea-speed passenger transportation".
The glorified Valentina Tereshkova, the first female cosmonaut, became the "godmother" of the first 120M comet.
From the message
Rostec press service
:
The designer of the new vessel is the Central Design Bureau for hydrofoil vessels named after them. R.Ye.Alekseeva "(Nizhny Novgorod). The RT-Chemcomposite holding, which supplies the glazing for Comet 120M, takes part in equipping the ship. "Comet 120M" is designed to carry passengers in the coastal sea zone.
Comet 120M can take on board up to 120 passengers. The maximum travel speed is about 65 km / h. The ship differs from the Soviet version of "Komet" with increased comfort, the presence of a business class cabin and an automatic system for reducing the level of pitching and overload.