This Hitlerite minion became a symbol of the "revolution of hydration", no matter how much Maidan revolutionaries deny it: after all, they renamed Moscow Avenue in Kiev to Stepan Bandera Avenue. Another thing is surprising: Bandera even came to Russia by simply moaning his propagandists on Russian channels: "Russia annexed the Crimea, occupied the Donbass." In this case, our debaters begin to justify themselves.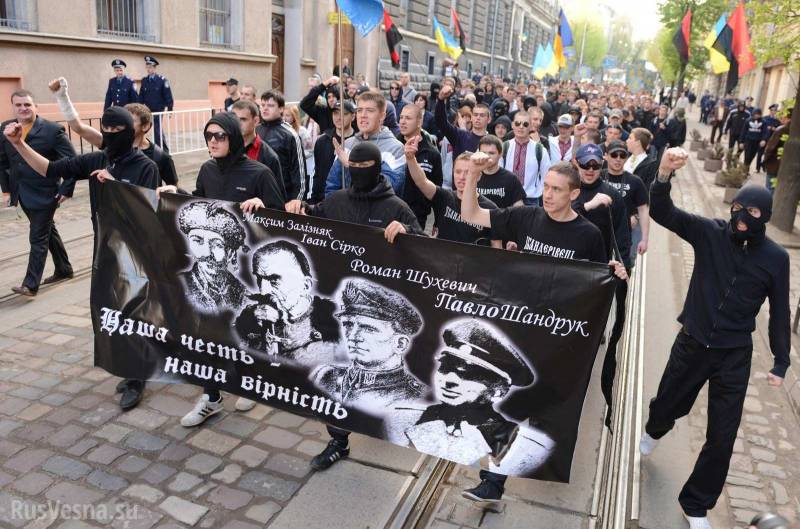 Our detailed minds set in response world precedents, explain the threat of Bandera extremism, which showed itself in Odessa Khatyn, and the legal side of the issue. Crimea voted in a referendum, Donbass did not accept the Maidan coup and its ideals, and defends its legal rights, and there are no Russian troops there.
Here who only these arguments to our high political scientists prompts? - when they are removed by a simple ideological message of "territorial integrity". Already our liberal Nadezhdin moaned: after all, Russia had violated international law. After all, the discussion in these discussions is not about truth, not about international law, but only about winning a dispute: even with a sip, even a fool of an uncomprehending system of itself, or at least juggling with facts.
But there is an official statement by Vladimir Putin that Ukraine, after the pro-American coup 22.02.2014, "is under external control," US Vice President Joe Biden clearly demonstrated this to everyone, sitting at the head of the table with the Kiev government and president. Therefore, all discussions with Bandera can begin with the fact that Ukraine has become a colony of America and partly of Europe, a non-independent entity, a springboard and an instrument against Russia.
The cry of "experts" is heard on this: but after all, Russia, Putin recognized Poroshenko! Yes, Putin recognized the new Kiev government, he is a statesman and is burdened with great responsibility, but after all, political scientists and journalists are not statesmen, and they are not obliged to repeat diplomatic politees, but they can speak in essence! Stalin recognized Hitler's power and made treaties with it, although Mein Kampf was written a long time ago: politics is the art of the possible.
From our discussants are required to observe state, diplomatic discipline, and they obey! While the whole journalistic Western world is completely free from the statements and obligations of its governments, it broadcasts any fakes: they are a free press! The Bandera propagandists of their "annexation" and "occupation" directly contradict the official position of Kiev and the Minsk agreements, but we manage not to notice that they immediately abandon the Minsk agreements. What then can you talk with them, and how?
Our "former brothers" today are simply puppets, use them in the dark, or they sold out deliberately, it does not matter. What can be discussed with the US colony, with its puppets? "The annexation of the Crimea"? How to make the Crimea US naval base? "The occupation of Donbass"? To the United States increased the area of ​​its springboard on the borders of Russia?
Today, Vladimir Putin does not repeat his statement about "external control over Ukraine," he is a statesman, but journalistic journalists are not at all constrained by this. In addition, Putin has never disavowed his thesis on "external control".
It's not by chance that Vladimir Putin speaks about the normalization of relations with Ukraine: it's impossible in principle to normalize relations with the US colony. You can only negotiate with Washington about any improvement in relations with his colony. At the last Valdai, Putin said that we need a "friendly Ukraine," that is, not a US colony. Guess three times: what does this mean?
Another argument of the Maidan propagandists: any revolution is impossible without excesses - this is a universal justification for the atrocities of the Nazi revolutionaries used to this day, it is possible to write off all their crimes for years to come. Only if it is a revolution, a fundamental revolution, does it completely violate the current Constitution of the country, then other regions of the country have the right not to recognize this revolution and its Bandera ideals.
Then the Crimea, Donbass and other regions have the right to self-determination: to recognize this revolution and its ideals, or not. To recognize Bandera or not: this is exactly the question in the Donbas, and not only. By the way, after the October Revolution 1917, Finland, the Baltic states, Poland freely separated from Soviet Russia.
Finally, about one of the main Bandera propagandists on our channels - Vadim Karasev and his vundervaffe: "Do not insult my country!" The facts of insult require evidence, but Karasev does not lead them: a lie cannot give evidence. He is insulted by the truth about fascism in Ukraine, because he has "friends are fascists," by his own admission. This is the case when the truth becomes a log in the eye!
The journalist Tsymbalyuk invented his vundervaffe with his brother Karasev: "We, Ukrainians, will figure it out!" How will they understand Odessa, Mariupol and Donbas? With not kneeling in front of Bandera? Three years in Odessa, they figure out who burned people, but to no avail, although it is known that Andrey Parubiy gave the executioners command, for which he received the post of Speaker of the Rada. In fact, the Bandera propagandist demands the right to genocide all objectionable Russian "Ukrainians" who do not recognize Bandera.
It is time for us to demand an end to insults from Karasev and Tsymbalyuk: their rulers declared the Russians in Ukraine a national minority - half the country! Is this not an insult and not a violation of human rights? Where is the right to bilingualism inherent in all democratic countries, even Canada?
Generally, while paramilitar militias of the Nazi militants act on Bandera Ukraine, sowing death and terror, what can we talk about? They are still kidnapping and torturing people under the auspices of the Security Service of Ukraine, now Daria Mastikasheva has been thrown into a torture chamber and tortured to suicide. Until the abduction of Mastikasheva, the Odessa Khatyn, the murder of Olesya Elderberries and others, the talk with the Bandera regime and its propagandists, its western patrons can be investigated only about respect for human rights in Ukraine.