The AviaTech Research and Production Department is finalizing work on the first in the Russian Arctic amphibious aircraft L-172, which is being created by special order of the Yamalo-Nenets Autonomous District (YNAO), reports
TASS
message of the press service of the governor of the region.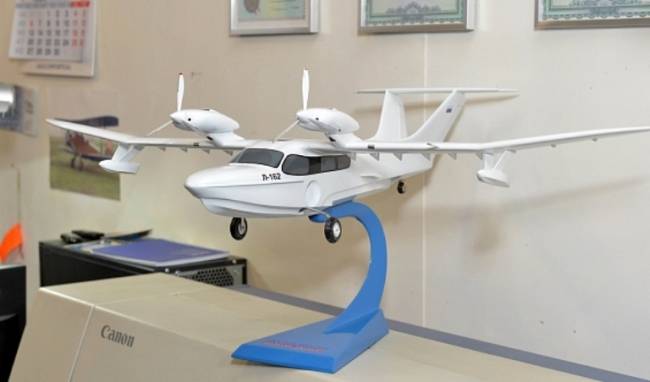 "Samara is completing the assembly of the first arctic amphibious aircraft L-172 Yamal of the Arctic modification. Today, as part of a working visit to Samara, the head of the Arctic region Dmitry Kobylkin, together with the Minister of Industry of the Samara Region Sergey Bezrukov, visited a research and production enterprise for the development and assembly of small liners
aviation
", - says the release.
The seven-seater is designed with increased endurance requirements when flying in arctic conditions. "The plane is already called the flagship of the small aircraft of the northern region, symbolic of Yamal. At the same time, the assembly of the L-42M, also of the northern configuration, ends here. "
Cars will replenish the fleet of the regional federation of light and ultralight aviation Yamal "Wings of the Arctic"
Kobylkin noted in Samara that the range of use of such seaplanes will be expanded.
Design solutions meet our requirements and working conditions in the arctic climate. For several years, small aircraft has shown high performance when patrolling forests in the summer, during raids on water bodies. We plan to use it more widely: for air ambulance in the most inaccessible tundra villages, to provide passenger traffic within the region ... I do not rule out that the range of use of Arctic seaplanes will be expanded to meet the challenges of developing the Northern Sea Route, ice reconnaissance and assistance to ships,
quoted by the governor's press office.
The main design parameters of the aircraft L-172: "Cruising speed - 300-330 km / h, maximum speed - 380 km / h, flight range - 2000 km. Modern multi-purpose seaplane with high aerodynamic characteristics, increased economic efficiency, high reliability, safety, does not require the services of aerodrome structures. "
The acquisition of L-172 Yamal is carried out at the expense of the funds of the Federation of Light and Ultralight Aviation of the YNAO and extra-budgetary sources.
"Experimental flights will take place at the range in Samara. The aircraft will arrive in the service of Yamal in 2018 year, "the press service added.