Russian special forces will receive a unique, compact device definition of "friend or foe" - "Eye". The new device will be a must-have accessory to their combat equipment, according to
News
.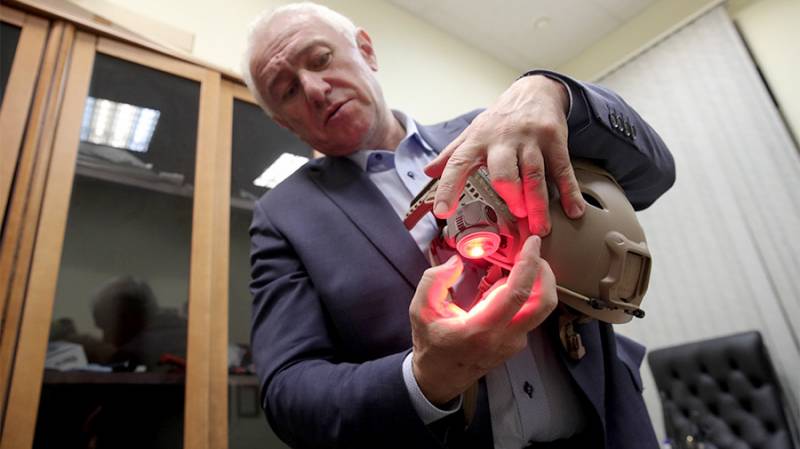 The "Eye" allows commanders to determine the location of their fighters unnoticed by the enemy at night, and also secretly, without going on the air, to issue command and control commands. With it, you can also coordinate actions during the night landing with a parachute.
Currently, the device is being tested in special forces units. We are awaiting recommendations on the finalization of the product. Starting next year, we will begin serial deliveries of the Oka to special units of the Russian army and other security agencies, Nikolai Gorbunov, director of Zenit LLC, told the newspaper.
Externally, the "Eye" looks like an ordinary tactical flashlight, mounted on armor, equipment or
weapon
special forces.
"It has four high-power LEDs: white, red, blue and infrared. White - allows the soldier to highlight the road or the parachute canopy to indicate his position during the night landing. Red - in order to enter from the light room into the dark and immediately see what is happening in it. Blue allows you to detect traces of blood and provide first aid to the wounded. Infrared - for secretive detection of people in your group. Both the soldier and the unit commander can switch the flashlight to the desired mode remotely, "the article says.
The product weighs 60 g, the range of integrated radio is up to 5 km.
For special forces, the problem of covertly identifying "their-other's" on the battlefield is very serious. Special tags were used, which are visible only in night vision devices (NVD). But now the NVD is available to militant terrorists, and the tags are already unmasking. Also, modern radio scanners are available to action movies. Radio communication between special forces soldiers is on an encrypted channel, and it is impossible to understand what they are saying. But to fix the encrypted radio itself is easy enough. Having discovered such signals, the militants realize that special forces are operating nearby. Identification problems often lead not only to the failure of the operation, but also to the death of military personnel from friendly fire,
told the publication of a military expert Anton Lavrov.