Russian military will receive unmanned aerial vehicle (UAV) fighters armed with rifle complexes with special ammunition, according to
News
.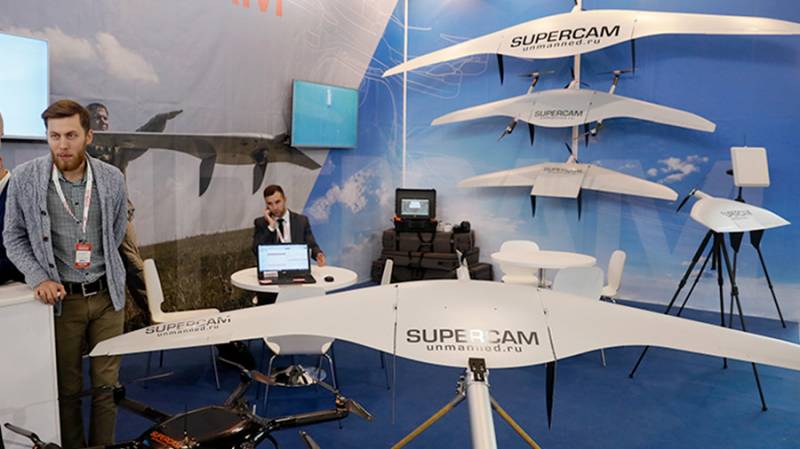 The drone finds in the air and destroys various enemy UAVs, including miniature ones. Also, the "hunter" can fire at targets on the ground - for example, personnel, shelters or cars.
As told in the Ministry of Defense, the drone-hunter is already undergoing tests, the outcome of which will be the decision to adopt the product. His main task is the search and destruction of the enemy's UAV, primarily quadcopters. For the first time the novelty was presented at the closed part of the exposition of the Army-2017 exhibition-forum.
"Little is known about the novelty. This is a small aircraft. Unlike most UAVs, it is launched into the air not with a catapult, but starts vertically. The dimensions of the drone-hunter allow you to transfer it to the calculation of several people, as well as transport it by car. Thanks to this, the novelty will be able to quickly deploy and cover up its troops from enemy UAVs, "the article says.
The product is armed with a rifle complex with special ammunition, which is undermined near the target and hit it with fragments.
The device can patrol and destroy targets both automatically and manually. In the first case, he is given the area or route where he is searching. Having discovered the targets, the "hunter" requests permission from the "earth" to open fire. In manual mode, the operator independently controls the device and searches for targets.
Denis Fedutinov, an expert in the field of unmanned aerial vehicles:
This way of dealing with drones has several advantages. Such hunters can hit targets at long distances from the attacked vehicle. But, on the other hand, such systems have obvious problems - restrictions on the weight and dimensions of the loads, difficulty with aiming, recoil when fired, etc. Successful solution of these technical problems can open up new opportunities for the military while minimizing the risk of hitting own forces and assets.