The manufacturer of all Russian interplanetary and scientific space vehicles — the Lavochkin Scientific Production Association — has completed preparations for testing in the stratosphere of the atmospheric pseudo-satellite "Aist" LA-252, according to
News
.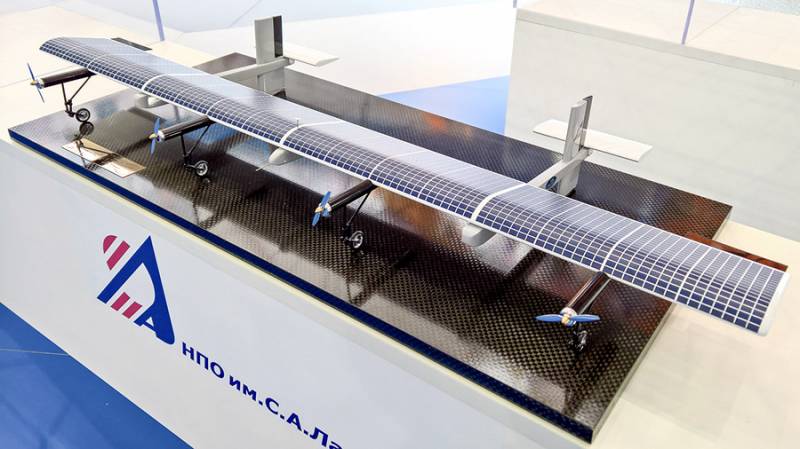 The UAV, made according to the traditional aircraft scheme with a bearing wing, is capable of making a year-round non-stop flight, recharging from sunlight. The entire upper surface of the "Stork" wing is covered with solar panels - they set in motion two electric motors that rotate the screws. At night, the device flies due to rechargeable day batteries.
The tests carried out in July-September 2017 basically confirmed the calculated characteristics of the device, with the exception of the flight altitude. This is due to the fact that for a flight into the stratosphere, a special registration of the aircraft and an official permission for such a flight from regional
aviation
authorities,
said NPO director general Sergey Lemeshevsky.
Currently, the company is preparing to submit an application to the Ministry of Industry and Trade for a certificate of validity
drone
to flight. The flight is planned for November-December.
"LA-252" Aist "refers to the class of atmospheric satellites (pseudo-spacecraft). He, like satellites, operates at the expense of solar energy and operates at altitudes inaccessible to civil aviation - from 15 to 22 km. For flights in a discharged atmosphere, the apparatus is as light as possible - it is made of modern composite materials and has high aerodynamic characteristics. The average weight of one square meter "Stork" is less than 3 kg. The wing span of the drone is 23 m, take-off weight is 125 kg. The LA-252 is capable of carrying a total weight of up to 25 kg. For example, it could be a surveillance or communication equipment, "the article says.
Unmanned systems expert Denis Fedutinov:
It is assumed that unmanned aerial vehicles patrolling over a given area at high altitudes can provide communication. This may be relevant in areas with no relevant infrastructure or in areas where this infrastructure is disabled, for example, as a result of natural or man-made emergencies.
The first prototype of the "Stork" - LA-251 was tested in 2013 year. Then the possibility of a non-stop multi-hour flight was confirmed, a second version of the device, the LA-252, was created for further experiments.