The German command first appointed commander of a transgender battalion, reports
RIA News
message channel XBUMN RBB.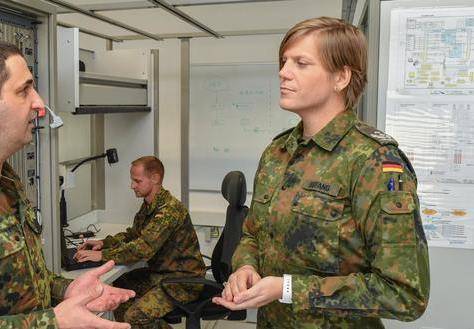 Lt. Col. Anastasia Bifang told the TV channel that she "always felt a certain" inferiority, "but until the 40 years she put up with it." At some point, she (he) decided to undergo a course of hormonal therapy and do several sex reassignment operations. Now the officer considers himself a woman.
43-year-old Bifang took office on Wednesday - now under her command the 381 battalion of communications and support in the town of Shtorkov, which has 750 military personnel. According to the lieutenant colonel, "subordinates calmly accepted the decision of the higher leadership."
She is confident that further career will develop successfully. In addition, "as a member of the society of homosexual servicemen, she intends to more actively advocate for the rights and interests of transgender people," the material says.
Bifang serves in the army already 23 of the year. She admitted that the decision on her appointment nevertheless met criticism: "strangers began to leave offensive comments on her Facebook page". The officer, however, does not attach much importance to this and believes that her detractors are in the minority.