"Peace Boat" (Peace Boat), sailing around the world under the slogan "A world without nuclear
weapons
and without wars ", arrived yesterday at the port of Havana, transmits
TASS
.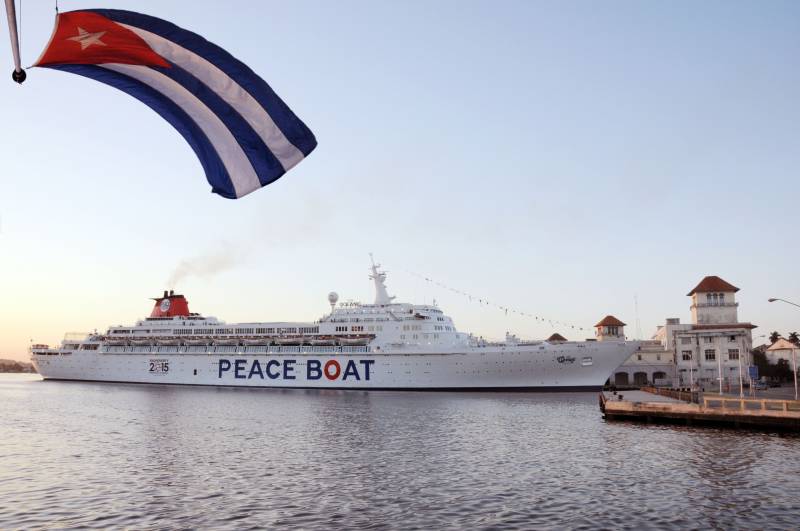 On board the ship, there are about 700 passengers of various nationalities, including several Hibakusha - the Japanese, who survived the American atomic bombing of Hiroshima and Nagasaki.
In Cuba, passengers of the vessel took part in a disarmament forum organized by the Cuban Institute of Peoples Friendship. They told Cuba's youth about the horrors nuclear weapons could bring.
I could not see the radioactive cloud - the so-called nuclear mushroom, because I was just under it,
told Tokuko Kimura, who survived the atomic bombing of her native city of Nagasaki during 10 years of age.
According to the woman, she was "just 3,6 km away from the place where 9 August 1945 had dropped the atomic bomb" Fat Man "."
Kimura noted that she is very pleased that "the Nobel Peace Prize this year was awarded to the International Campaign for the Prohibition of Nuclear Weapons (ICAN), of which the" Peace Ship "is a part."
As noted by the Norwegian Nobel Committee, this organization was awarded "for drawing attention to the catastrophic consequences of the use of nuclear weapons" and for efforts to secure the adoption of a treaty banning such weapons.
The Peace Ship NGO was established in Japan in 1983, headquartered in Tokyo. The ship is currently making its 95 sailing. It began on August 13 in Japan and will last the month 3. In total, the ship will moor in 19 countries. Members of the organization have already visited countries such as Greece, France and the United States. After Cuba, stops are planned, particularly in Mexico, Panama and Nicaragua.