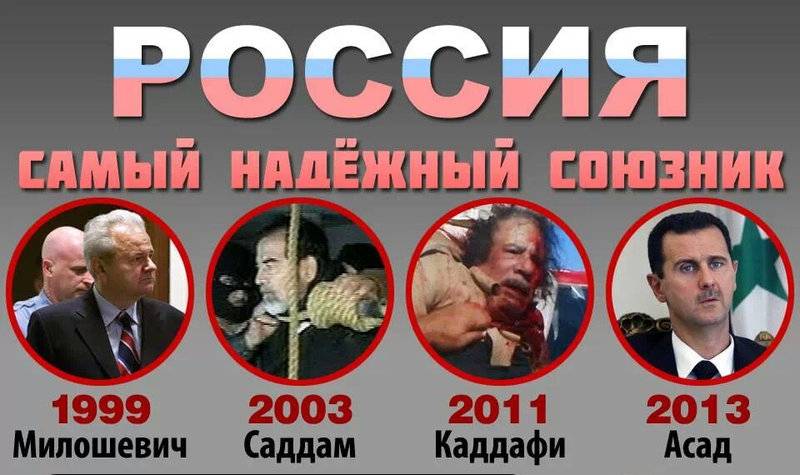 The reproach is so typical that, they say, Russia did not save its ally Serbia from NATO bombings - and how can it be believed after that? For a person who knows a little
history
20 century, this reproach can not but sound like a frank absurdity. You just have to ask yourself very politely and aggressively: when, strictly speaking, was Serbia an ally of Russia? That is, when Serbia did not "ask for help", but offered something? And when was Serbia oriented to Russia?
If anything, during the Second World War the Serbs remembered Russia only when the German divisions were ready to invade the territory of Yugoslavia, but not earlier. During the Second World War, the Serbian partisan leadership was focused primarily on the Anglo-Saxons, but not on Stalin. That is, there already in the course of the guerrilla war everything was "not so simple". To say that the Yankees and Tommy were supporting Tito with all their might would be a frank exaggeration.
The post-war history of breaking with the USSR and reorienting to the West is well-known: Stalin allegedly wanted to enslave the freedom-loving peoples of Yugoslavia, but here you are not here ... And everyone voices this and only this version: about the bad aggressor Stalin and the heroic and freedom-loving (money-loving?) Tito. And this very version of the "attempted raider seizure" is, in fact, generally accepted, and no one even tries to object and call it into question. Where is the evidence? And the evidence is held "by contradiction": since Tito firmly arrested all pro-Soviet-minded comrades inside the country, this is no accident, and this was a salvation.
The bitter lackluster truth was that Yugoslavia did not want to enter the Soviet zone of influence. Completely and categorically. Here they had a kind of "national consensus". And the Yugoslavs in general, and the Serbs in particular, looked at the West and only at the West (at the same Germany), but by no means at the beggar of the USSR. And all subsequent years and decades there was a clear pro-Western orientation and there were no fluctuations here. The Serbs were not interested in all the post-war decades, what Russia lives there and what its problems / anxieties are!
Full "ignore" and full euroorientation. I did not say that it was bad, and I did not say that the Serbs owed us something. But the fact took place. No "pro-Soviet / pro-Russian" opposition, no "sudden jerks to the east" were observed. Tito was one of the fathers of the Non-Aligned Movement. Ostensibly neutral ... receiving bonuses from both sides.
On the Russian Serbs remembered just after the collapse of the USSR. When they, in turn, began to pinch and press. For what? Yugoslavia was a prosperous Euro-oriented democratic country.
Much
more civilized and European than the same modern us Ukraine. Nevertheless, Yugoslavia "went under the knife." Czechoslovakia did not resist, and there was a peaceful separation of the Czech Republic and Slovakia. And the Serbs rested. And there was a war, bloody and cruel, in which it was the Serbs who were accused. And the Russians were accused of not saving Yugoslavia.
I try hard to understand why the Russians should have saved the very Yugoslavia? With some kind of fright? Yugoslavia was a sovereign state, and its rulers themselves decided to be friends with whom. And they were not friends with Russia. But when NATO bombs rained down on them, it was then ... then the zealous leaped, and they remembered the Orthodox fraternity of the two nations.
Gloat? No no no
no
gloating, and can not be. For what they fought ... I just wanted to note that the Yugoslav leadership did not consider it necessary to enter into allied relations with Russia, moreover, at the end of the 40s, these relations were purposefully and toughly broken (it seems to me, not without a hint from our foreign "partners"). The West categorically did not need Yugoslavia in the Department of Internal Affairs, and they achieved their goal.
And after 40 years, the results of this geopolitical decision followed. And do not separate one from the other (the gap with the USSR from the NATO bombings). And so, it turns out great: bad Russia wanted to imprison Yugoslavia under Stalin and did not save under Yeltsin. Both here and there Russia is to blame, and the West is all in white. The distribution of roles is only strange, and it is not at all clear what prevented the Yugoslavs from being friends with the USSR, while the Soviet Army stood in Hungary?
They wanted to save their sovereignty? Well, they saved him! After recognizing Kosovo as an "international community," it became absolutely clear. To win together, it is necessary, first of all, to be on the same side from the very beginning.
There is also a mention of "Libya, unsaved." The counter question will be about the same: why exactly were we supposed to save her? We had military bases there? Muammar Gaddafi defended primarily Russian business interests in Libya? No, this is not an invitation to "quarreling", but simply direct and honest questions to those who accuse us of "non-rescue". What was the direct and specific interest of Moscow to "pull out" the Gaddafi regime? Chinese business interests were not as serious as an example. Why Beijing did not save Gaddafi, you can ask?
That is, they periodically tell us with aspiration what a superpower China is. With value, raising up the index finger, they say: look and learn ... But why did not China save the Libyan Jamahiriya? And even did not try to do it? The main business interests in Libya were just China, but not Russia. Not so easy, say? Well, who can argue?
And if someone forgot, then Gaddafi actively financed the election campaign of Sarkozy. Why didn't the French president save his Libyan friend? For some reason, it is considered inconvenient to ask about it. Strange: Gaddafi financed Sarkozy,
but not Putin
, not Medvedev and United Russia, but for some reason it was the Russians who had to save him. Why didn't the heroic colonel from Libya try to financially support the political career of a no less heroic lieutenant colonel from Russia? What prevented him?
What prevented Libya from focusing on Russia? Well, this option was not even considered. Europe, China is yes. But not Russia. No, there were proposals, well, like "for denyuzhku" not to allow the UN Security Council to sanction against the Libyan state. Interesting such a proposal. But no reciprocal political / economic concessions were assumed (which is normal with respect to a respected power). A permanent member of the UN Security Council (!) Was offered a simple job for a cash settlement (like digging a ditch or distributing flyers).
And then, when Comrade Gaddafi European falcons broke the hell out of dogs, questions arose precisely to Russia. But not to France or China. Are Russians extreme? Or red? Or both?
It is very difficult to understand what responsibility Russia bears for the collapse of Yugoslavia / Libya - they were not our allies. No, when the air-raid sirens howled, they quickly remembered that there is such a wonderful country with a nuclear
weapons
under the name of Russia. And I even recall the statements of the Serbian politician at the time of the NATO bombings that "Russia must uncover its missiles ..."
The logic is rather strange: allied relations between countries are built up in decades, not in five minutes. Now here is such a harmful, mocking question: what if in 1999 Russia would save Yugoslavia from NATO bombings? Well, a certain "miracle in the Balkans" would have happened, and by military and diplomatic efforts we could have prevented these bombings. So, what consequences would this have for Russian-Serbian relations?
Today we already have a huge post-Soviet (post-great-power) experience of political relations with neighboring states. And simply enough, you can "figure it on your fingers", what would be the result of "saving Belgrade from NATO". So, hardly after that we would have a naval / air base in the territory of Yugoslavia. Very unlikely. If it did not arise in the much more favorable conditions of the Soviet era, then in the modern era we would definitely not have provided it.
Regarding the Russian business and its entry into Yugoslavia. Probably, too, everything is extremely clear, simple and clear. Suddenly, it would be revealed that the Serbs are madly grateful to us, but they prefer to do business with traditional partners. That is, after a while in Russia there would be a very inconvenient question: why did we save them?
Just knowing a little Serbs and their real behavior in European politics, it is extremely difficult to experience impetuous optimism. At that moment, when they could (without doing anything superheroic) really help "fraternal Russia" during the beginning of the Cold War, they, mobilizing the whole nation, "put the Russians in the cold." Yes, that's right - you need to call things by their proper names.
Very often bystanders of political processes pay much attention to words, beautiful gestures and political declarations. So, you can use the opposite method: "follow hands," that is, pay attention only to real actions. Chatter is ignored in principle. Words are, you know, only words (if, of course, they are not confirmed by one-on-one with real actions).
And after the very turn in the end of 40, the fraternal Serbs felt very comfortable without "friendship with Russia" (after Stalin there were many rules, but there was no interest even in Gorbachev. To Gorbachev, Karl!). Friendship with the West was quite enough for them that way until 91 ... But when they were besieged from all sides, it was here that they "volans-nevalen" remembered a distant northern country (which "friends" usually remember only when the fluffy northern animal comes ). I would be careful not to call it "friendship." Somehow not very similar.
Once again: no one says that the Serbs / Libyans owe us something in the coffin of life. No, not so. But in the opposite direction, this wonderful principle works. What actually such interesting offered Gaddafi Putin / Medvedev? You can voice? Yes, in itself, the defeat of Libya - this is bad, this is sad. But why the blame for "non-rescue" is immediately placed on Russia? And if they were saved, then what would be interesting for us?
In the same way, "think on your fingers": Russia saves the Libyan Jamahiriya from the death that threatens it ... The joy and gratitude of the Libyan people knows no boundaries ... This is on the one hand. On the other hand, the official Tripoli has long-established business contacts with Europe / China / USA. And so just can not change everything. And after a while, the Russians would be surprised to find that it was not them who got the most interesting contracts.
Not once or twice met harsh accusations of not supplying air defense complexes to Iran. Strange as it may seem, it is difficult to blame Russia for something, so these are the ones that have not been delivered to C-300, ay-ay-ay, what a shame. Meanwhile, with a more calm / careful consideration of the problem, the picture emerges quite different.
There is a certain interstate contract for the supply of arms (usually not some left-wing commerce trades in arms). At the same time, there was no need to talk about any "allied" relations between Moscow and Tehran - pure business. Let's do this: boldly separate the bones from the raisins. Relations with Iran have always been rather complicated (the end of the 20 of the 20th century is not an exception). We didn't have any "obligations" to the Ayatollahs.
So C-300 to Iran is a pure weapon business. No more and no less. Well, I must mention the complicated tangle of political problems around the Iranian nuclear program and UN sanctions (UN sanctions, Karl!). Russia was not obliged to "at any cost" and in spite of everything to supply these complexes to Iran. Russia was not obliged to "substitute" in the international arena because of Iran, which almost never was its ally.
Yes, politics is so cynical. It looks funny when a state with a thousand-year-old richest diplomatic history is being tried to be divorced to be "weak" as a schoolboy. There is a contract ... but there are UN sanctions.
But even here, things are not so simple, and not everything is so simple: the United States, at the suggestion of its Israeli partners, actively wanted to bomb Iran with its undeveloped rockets, numerous centrifuges and Shiite spiritual leaders. That was, that was. And it was not empty threats - preparation for strikes was conducted very actively. And there was no war inside Iran, Iran did not attack anyone, and no matter how there were no reasons.
But, you have a nuclear program, and we believe that it is military. In fact, the differences are likely to lie in the field of oil control and independent Iranian politics. And the United States has been actively pressing Iran since the 1979 revolution. And the attack of evil Saddam had this interesting reason behind it.
The United States does not need large, independent states - they are underfoot. Therefore, Iran is actively pressed. But from this, Iran did not want to become an ally of the USSR / RF. In principle - their business. But there were no moral obligations (except for purely commercial ones) for Russia to Iran and could not be. Although it was the Russian Federation, and not the EU and not the PRC, that it actively "discharged" Iran from the attack of the "coalition forces".
Here, one "prince of Persia" (presidential candidate) said that he did not believe that Russia would fulfill all its obligations towards Iran. In general, political obligations are not so much a matter of faith (it is different for us), as political / economic agreements. To count on the fact that Russia, on its own initiative and without any signed documents, will begin to resolve the foreign policy problems of the Persian people frankly naively.
In general, relations between Moscow and Tehran are very complicated and ambiguous. The paradox is that our friends and enemies in the region seem to be the same: both Russia and Iran are friends of Assad and the "non-friends" of various Bahraini there, Cathars and KSA ... We were even accused of supporting the Shiites against the Sunnis ... They lived! Both Iran and Russia have antagonistic relations with the USA and very good relations with China ... Both Iran and Russia are old opponents of the janissaries. You see, how much we have in common: the Russians and the Persians, which year wage the hardest war in Syria against ... those who are on the right side of history.
But friendship is somehow not formed ... Attempting to use a jump airfield in Iran to strike at the terrorists (while even Iranian generals are regularly killed by their hands!) Led to a scandal. With the construction of a certain railway in Iran (announced during Putin's visit to this country), everything turned out to be very mysterious.
In general, Iran is not only oil, it is also a very extensive market (about 80 of millions of inhabitants), only Russian companies for some reason do not wait there. The Chinese and Europeans are another matter. That is, strategic cooperation is unevenly formed, it is not easy. The scandal over civilian aircraft (which the freedom-loving Persians prefer to buy precisely in the wicked West, but not in Russia) led to the cancellation of Rogozin's visit at the time.
That is, with the fact that the Comrades Persians want to get more or less clear from Russia (military technologies / systems / nuclear reactors + military-political cover from the US), but with the fact that they are ready to provide in return there is no clarity. And as we know - there are no free cakes. That is why the "cooperation" is not easy and not fast. By the way, after the lifting of the sanctions, the Comrade Persians immediately declared that contracts already concluded with Russian companies need to be revised.
No, do not think that I have something against the Persians - I am completely impressed by their desperate courage and youthful maximalism. The trouble is that the American threat of "sudden Tomahawks" has not disappeared anywhere, it became especially clear after Trump was elected. The Persian comrades did not have time to rejoice at the lifting of the sanctions and calculate the profit from the "renegotiation of contracts with Russia", as the newly elected American president clearly stated that the Ayatollahs are "radishes" and that the agreement on the Iranian nuclear program does not suit him at all.
That is, in a fairly complex foreign policy situation, the Persian comrades demonstrate the rare ability to "change shoes in the air" and change direction faster than any weather vane. The case is unconditional, but the rocket is unconditionally American ... What is this? There are two distinct forces in Iran: the Islamist nationalists and the Westerners. Conditionally of course. For obvious reasons, neither of them nor others particularly favor Russia: the former are for reasons of historically religious, the latter "because Russia is not America."
So, either one or the other can achieve dominance - this gives little to Russia. Neither the national Islamists, nor the Westernizers can build a serious foreign policy concept that takes into account Russian interests, and the short-term petty-grass cooperation does not interest us.
Air defense systems and reactors in general no one wanted to supply Tehran (except Russia!), So this is not for us a great achievement ... if Iran had an alternative - there might have been German reactors and American air defense systems. But the Germans refused to finish building the reactors (under pressure from the Americans). With the "alternative Russian" air defense, too, everything is clear.
That is why "cooperation on the Moscow-Tehran line is going so hard and straining. Iran desperately needed the very reactors and the very air defense complexes not so much because of their uniqueness, but because of their inaccessibility for Iran. And Moscow went to certain political costs, agreeing to deliver such sensitive "goods" to Iran, quite logically counting on the "continuation of the banquet", which was not followed. That is, if we take the deal "on radars and reactors" in its pure form, then it is not profitable for Russia: the political costs repeatedly overlap the economic benefits.
According to the results, if the approach is the same - they fulfill the signed contracts and "run away" ... then it is better not to. There's no point. Russia is no longer in the situation to grab any penny. If "in the appendage" to these strategic goods Iran acquired in Russia "other different things" for "stop" billions, then yes - Russia's behavior would not be correct, but if the "cooperation" begins on reactors and air defense systems and the same ends ... you get specified in the contract. In my time.
I do not like? Not "blairodood"? Sketch me a list of countries pursuing foreign policy on completely different principles (start, perhaps, from France).
The problem of Yugoslavia, Libya, and Iran (and many others!) Is that they are in principle oriented / were oriented towards the West. The axis is this: nationalism-Westernism. And the supposedly necessary for the development of "supernanotechnology" can be obtained only there, in the West ... so with all the riches of choice ... Russia doesn't fit into this scheme almost at all, but it is actively trying to use it "for its own selfish interests." The same Iran at one time rather successfully nationalized the oil industry, relying on the fact that there was not only US NAVY on the planet, but also the Soviet Navy ... it is clear that the USSR "did not break anything off" from this.
That is, the standard scheme: being in a difficult life situation, some particularly cunning personalities are trying to push Russia and the West with their foreheads and fuck their little gesheft with it. Fine, fine, but why should we? We need such "cunning" and "biconvex" allies only in the museum. And if someone persistently wants to set us against America, then this does not mean that he is our ally.