The large landing ship Ivan Gren tested the AK-630m airborne artillery system at sea, the Baltic Press Service reports
fleet
.
Now the newest BDK is undergoing factory tests in the Baltic Sea, during which the functioning of the AK-630м small artillery complex was checked.
Earlier, the crew of a large amphibious assault ship, as part of factory tests, loaded military equipment into the sea to conduct electromagnetic treatment of the hull using the CP-28 and CP-936 degaussing vessels to reduce the physical field.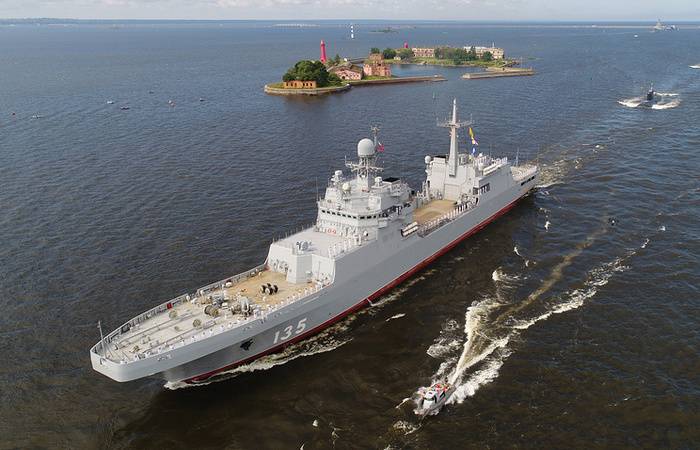 The next stage of the test program will be artillery firing at a naval target-stand and a mock of a floating naval mine.
We remind you that the Ivan Gren BDK was designed at the Nevsky Design Bureau. The well-proven Soviet project 1171 was taken as the basis. However, in the design process it was seriously refined. It was laid down at the Baltic Yantar Shipyard in Kaliningrad in December 2004, launched in May 2012, factory sea trials began in the second half of June 2016. It is planned to transfer the ship to the military before the end of 2017. It is also sometimes called the Russian Mistral, as Ivan Gren is able to carry 13 main
tanks
, 36 armored personnel carriers or infantry fighting vehicles or 300 paratroopers. It is possible to deliver to the destination a reinforced company of marine corps with standard equipment and land them on pontoons brought with them.
The basis of the BDK weapons are six-barrel automatic 30-millimeter guns. Also in the hangars are based two Ka-29 helicopters.
After the state tests the ship will be part of the Northern Fleet.