During the summit of the countries of the so-called Big Islamic Eight (Turkey, Iran, Indonesia, Bangladesh, Nigeria, Malaysia, Pakistan, Egypt), the Turkish President made a statement that could not but draw particular attention to itself. According to Erdogan, "claims from states possessing a nuclear arsenal of thousands of warheads regarding countries trying to build their own security system look ridiculous."
Information Agency
Anadolu
cites a statement by the President of Turkey, speaking at the summit:
By what right do countries with an arsenal of thousands of nuclear warheads criticize other states for developing their nuclear potential? The principle "Strong, always right" deals an irreparable blow to humanism and justice.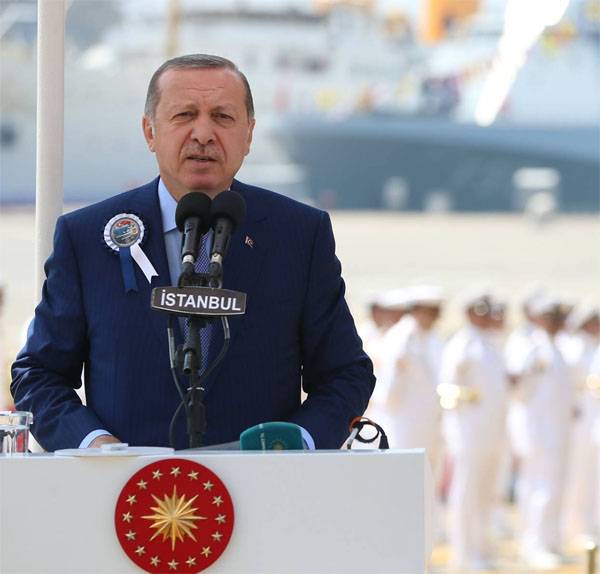 Further, Erdogan launched an open criticism of the US and the EU, accusing Washington and Brussels of supporting terrorism in the Middle East. According to Erdogan, the United States must work to explain the following: why the Kurdish armed forces of PYD supported by them (the Syrian branch of the Kurdistan Workers Party banned in Turkey) hung a portrait of Abdullah Ocalan over the central Raqqah square.
Erdogan:
In Rakka hung a banner with the image of the leader of the terrorists. What will explain the representatives of the United States? In words, Americans call the PKK a terrorist organization. This is also stated loudly by the countries of the European Union. In France, there was a similar incident, when state television showed footage of terrorists' accomplices who hung a banner with a picture of the leader of terrorists on one of the buildings. At the same time, the police calmly watched the scene. And how will this be explained in Europe? How is solidarity in the fight against terrorism? Turkey does not believe statements that are not supported by deeds. Otherwise, the police in Europe would not ensure the safety of terrorists. They are not sincere and not honest. Let them first be honest in the fight against terrorism, and then voice the demands on Ankara.
For reference: Abdullah Ocalan is the leader of the Kurdish political and military movement, which Ankara accused of terrorism. He is serving a life sentence in the island Turkish prison of Imraly.
Earlier, at the summit of the Big Islamic Eight, Erdogan proposed to expand the organization to the twenty and refuse to use the dollar and the euro in mutual settlements.