On the territory of the Primorsky Territory, a five-day airborne brigade exercise ended. The Ussuri military servicemen were involved in the exercise, who performed landing, maneuverable actions and carried out combat shooting exercises.
During the exercise, 10 units of military equipment and more than 700 airborne troops were parachuted. When landing from the IL-76 (from a height of about 800 m) parachute systems were used D-10 and "Crossbow". Landing was made on a special site Korsakov. At the same time, the military personnel at Vozdvizhenka airfield were "loading" onto a transport worker.
In total, the operation was provided by 12 military transport aircraft
aviation
VKS of the Russian Federation.
From the message
press service
Department of Information and Mass Communications:
After landing, the paratroopers, having de-moored combat vehicles, captured the airfield of the conditional enemy and ensured the landing of the main brigade forces.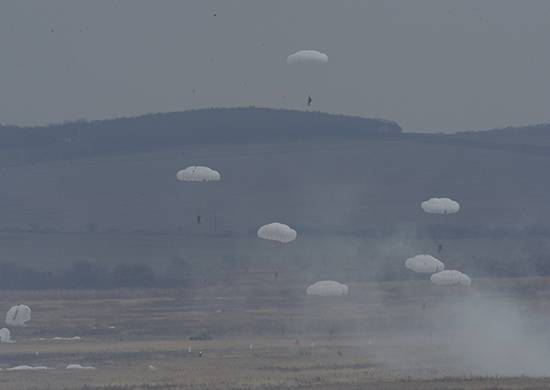 It is noted that a separate airborne unit operated in the rear of the conditional enemy and performed tasks in the conditions of active use of sabotage and reconnaissance groups, electronic warfare and high-precision weapons
weapons
conditional adversary.
From the material of the press service of the Ministry:
The paratroopers, capturing the airfield on military equipment, conducted a raid with forcing a water obstacle, seized a favorable milestone, where they fought a defensive battle with a counterattack against the reserves of the enemy. The artillery and mortar batteries of the Ussurian airborne brigade carried out the cover of offensive and defensive actions of the assault forces.
In total, about 2 thousand soldiers and more than 400 units of various equipment and special means were involved in the maneuvers. Led by General Lieutenant Andrei Holzakov, the deputy commander of the Airborne Forces, led the exercise.