In Egypt, there were armed clashes of security forces with representatives of terrorist gangs. It is reported that the Egyptian police conducted the operation, during which the terrorist cell was supposed to be rendered harmless. The operation was launched in a desert area called El Wahat. It is about 130 km from the capital of the country - Cairo. Egyptian security officials reported that cell militants were involved in the terrorist attacks on Cairo.
As soon as the first detachments of the siloviki appeared in the specified area, heavy fire was opened at them from the side of the terrorists. One of the Egyptian officers said that, in all likelihood, the terrorists had been notified in advance about the operation of the Egyptian police forces being prepared against them.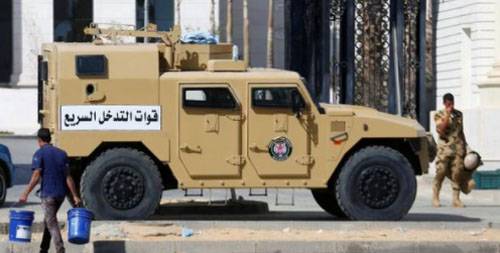 Already in the first few minutes of the battle, the Egyptian police officers were killed before 20.
The shelling was carried out from several directions. Not only small arms were used, but also RPGs and mortars.
Following several hours of battle, the Egyptian security forces lost at least 54 people killed and more than a hundred wounded. In this case, the losses of terrorists are significantly lower - up to 30 killed.
At one of the stages of the counterterrorist operation, the planes of the Egyptian Air Force were involved. According to some reports, the operation continues. The number of casualties on both sides is growing. The situation is complicated by the fact that the militants use an extensive network of underground passages, getting the opportunity to attack the Egyptian units, leaving them to the rear.
We can already say that the operation as a whole is a failure. First, it was not properly prepared, which led to a large number of casualties among the security forces. Secondly, the channels for obtaining intelligence information by terrorists were not blocked.