German edition
Der Spiegel
It comes out with another material on the "possibility of Russia's attack on the eastern flank of NATO." At the same time, the German edition comments on the fact that NATO forces in the event of such an "attack" will not be able to resist the Russian armed forces. It is reported that such conclusions were made in a special report.
The report, if you believe the publication "Spiegel", stated that NATO on the "eastern flank" is not a quality logistics. We are talking about the impossibility of promptly transferring forces and funds to the specified areas. At the same time, the situation in Poland and mainly in the Baltic States is considered.
It is also noted that the four NATO battalions stationed in the Baltic region are not enough "to contain Russia."
The head of the press service of the North Atlantic military bloc, Oana Lungesku, refused to comment on the publication in the German edition, saying only that the command of NATO forces was engaged in reconstructing a number of alliance management structures that had been disbanded after the end of the Cold War. On the question of whether this means that the Cold War of the West against Russia is resuming, Ms. Lungescu also did not answer.
The composition of the NATO battalions on the "eastern flank" is published. In Estonia, these are the forces of Britain and France, in Latvia - Canada, Albania, Italy, Poland, Slovenia and Spain, in Lithuania - Germany, Belgium, Luxembourg, the Netherlands and Norway, and Poland - the USA, Romania and Britain.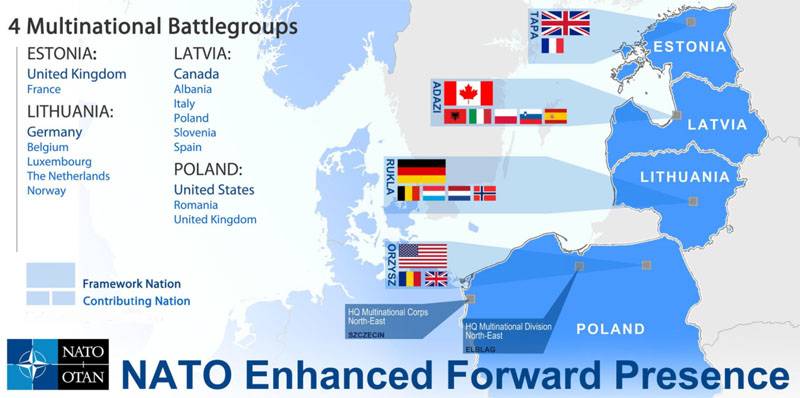 Apparently, even Luxembourg decided to use it for "counteracting Russian aggression".