The fighters in Syria, desperate to resist the government forces, are slaughtering each other. The squabbles between the ISIL gang and Dzhebhat-en-Nusra (banned in the Russian Federation) have reached the point where the guarantor of world security, known for his warm feelings for terrorist groups, recognizes that the situation in the areas controlled by the radicals is out of control.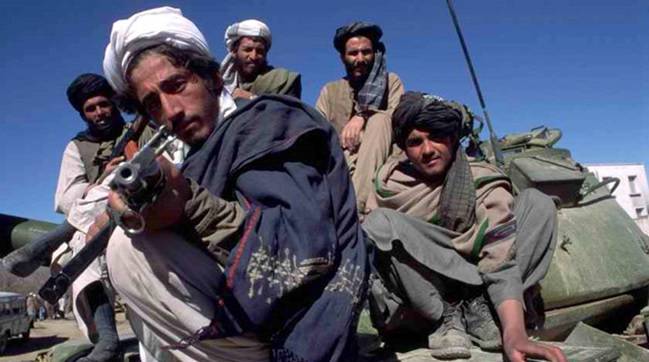 On the eve of the official website of the US State Department, a message appeared in which the agency informs citizens why they should not visit Syria. Among the areas where the US Foreign Ministry made a special emphasis is Idlib Province, where the opposition of the Igilovsky and Nusrovsky rabble continues with varying success. Literally, the State Department gives citizens the following information: "The tactics of ISIL, Tahrir al-Sham (Dzhebhat an Nusra) and other extremist groups include the use of suicide bombers, kidnapping, the use of small and heavy weapons, improvised explosive devices and chemical
weapons
».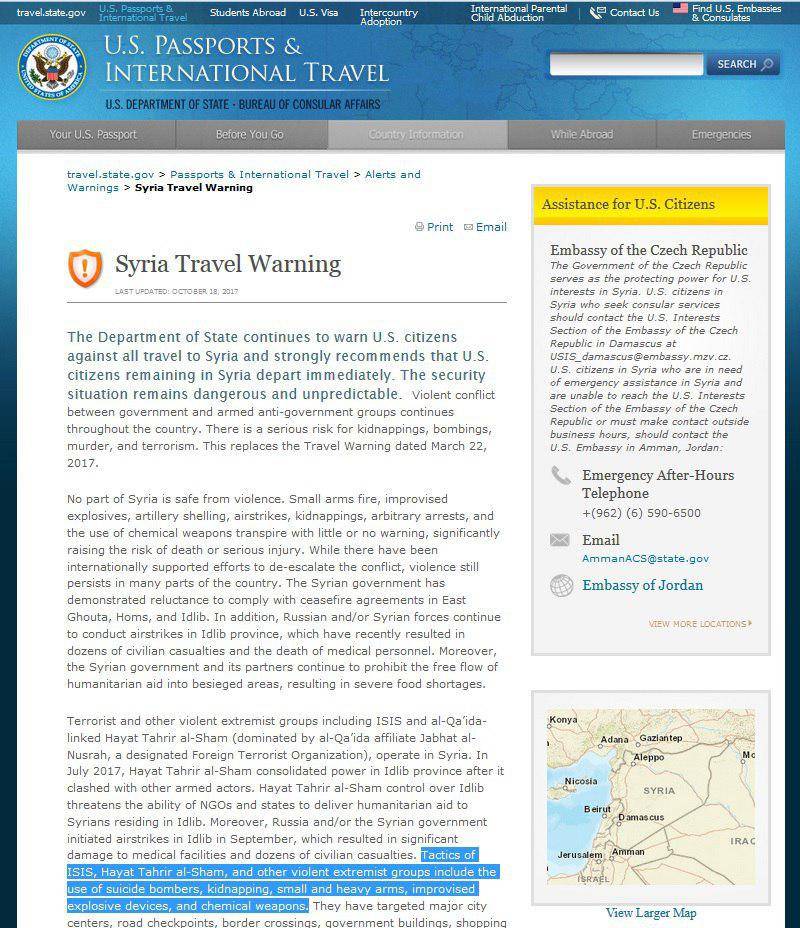 As noted in the Russian defense ministry, during the Syrian conflict, the State Department for the first time recognized the use of chemical weapons by radicals.
The sensational publication of the American department and the chosen time for its placement can hardly be called an ordinary coincidence. We can say with confidence that the extremists will not take long to wait and will soon begin to persecute everything around with "killing chemistry", thereby confirming Washington's fears.
The provinces of Hama and Idlib remain the most vulnerable in this case, where the radicals rid the world of international terrorism, destroying each other. The most violent clashes between ISIS and al-Nusroy are now unfolding in the area of ​​the city of Rahadzhana, where extremists resemble two primates trapped in a cage, holding a shahid belt instead of a banana. During the battles, both groups use suicide bombers, also quite often ISIS and al-Nusra exchange mines and mine bombs, which are laid on the approaches to human settlements.
It seems that in the near future the militants will bring the internecine slaughter to a new level and begin to use "chemistry", poisoning everything, including themselves.
Washington, given its fruitful experience in dealing with international terrorism, more reminiscent of partnerships, seems to be aware of such a scenario.