There are reports from Syria about the liquidation of the leader of the Faylak al-Sham group (* banned in the Russian Federation) Okba al-Bashi. He hit a mine, which was in his car.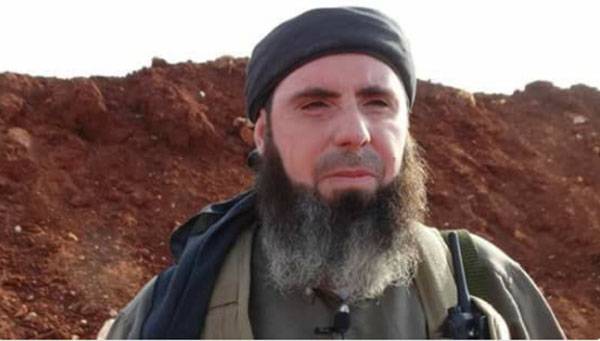 The gang, after it was driven out of the province of Aleppo, concentrated its terrorist efforts in Idlib, in which the so-called de-escalation zone operates. In Idlib, a regrouping of terrorist groups took place, as a result of which another gangster group known as "Harakat Nur Ad-Din Zinki" (* banned in the Russian Federation) merged with "Faylak ash-Sham". In total, the composition of the updated terrorist structure in the province of Idlib exceeds thousands of militants 4.
According to Riyadh Farid Hijab, who reports on the latest events in Syria, the militants of the groups associated with "Dzhebkhat al-Nusroy" (* banned in the Russian Federation), using the "calm" on the territory of Idlib, prepare a real human shield from local residents for use as provocations. It is noted that, in the area of ​​the Serakab settlement, the next actual concentration camp was equipped, which contains persons who opposed the terrorists. They are used for daily work on the construction of fortifications, digging trenches, tunnels, in the manufacture of improvised gun installations.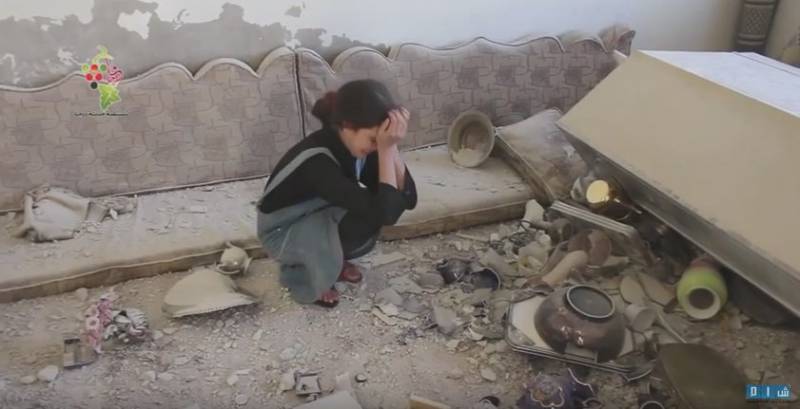 Riyadh also commented on a photo walking on social networks. On it is a man holding a poster with an inscription that Russia "guarantees murder and destruction." From Riyadh's commentary:
Turk, a fan of Gülen's preacher, who works on CNN's American television channel, Mete Sohtaoglu, tweeted a photo of a certain gentleman who gave a single protest.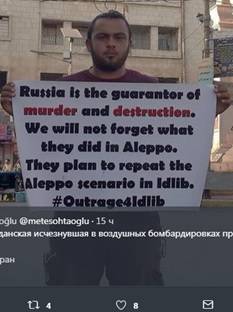 Apparently, he posted a photo of a member of his film crew, who brought with him a ready-made poster. I personally have no other explanations ... Let's talk logically. It is well known that the residents of Idlib have long had serious food problems. Moreover, a significant part of the city has already been destroyed by the "Nusrah" militants ... Look at this sleek face! Does he look like a man who for the past few years has been living in a war surrounded by terrorists ?! Yes, and the poster in English makes one doubt the reality of this action ... So, personally, I have not seen a single event in the Arab Republic, where slogans would be written in English. Immediately everything is clear - the target audience of the American TV channel should be clear what these incomprehensible people want.
Obviously, supporters of the endless war in Syria will do everything to try to set up the world community and the Syrian population against the actions of the Syrian government forces and against the actions of Russia, which have already managed to liberate a significant territory of the UAR from terrorists.
For reference: Riyadh Farid Hijab (1987 r.). Born in the Syrian city of Aleppo. He graduated from St. Petersburg State University. In 2017, he returned to Syria, in his native city.