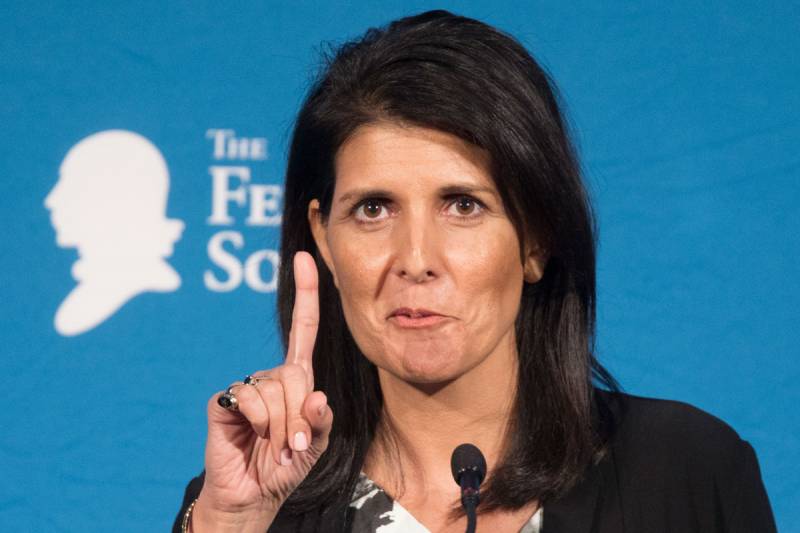 October 19, speaking at a conference at the George Walker Bush Institute, US Permanent Representative to the UN, Nikki Haley, said that by intervening in US presidential elections, the United States undertook "military action."
Almost a year after the presidential elections in the United States, but the elite of the country, which wanted to win the elections, was not at all Trump, still can not accept their results. Trump's victory is a political loss to the American elite, who were convinced that entrepreneur Donald posed no particular threat to them. Naturally, they did not accept their defeat. The question arose on whom to blame all the troubles. Of course, on his sworn enemy - Russia.
Having spoiled the already strained relations with Russia, America continues in the same vein. The fabricated "Russian case", unsubstantiated accusations, the imposition and prolongation of sanctions on this occasion do not stop, despite repeated denials by the Russian side. And Ms. Haley declares that Russia, not having a strong economy and large, corresponding to the scale of the country's Armed Forces, uses as
weapons
interference in the elections of other countries.
Again, Russia must respond to these attacks. The Federation Council called "know-how" attempts to link the elections in the United States with the state of the Russian army and economy. Franz Klintsevich, the first deputy chairman of the Committee on Defense and Security of the Federation Council on Defense and Security, said that Nikki Haley is not original in the unsubstantiated accusations and once again amazed with his own conclusions.
Doctor of Military Sciences Konstantin Sivkov said that the size of the Armed Forces of the Russian Federation, indeed, does not correspond to the size of the country's territory, but to say that the Kremlin is interfering in the internal affairs of other states is ridiculous. He called her statement an attempt to dump everything from the guilty head to a healthy one. He also said that Russia does not have such potential to influence elections in other states. And the United States has it and uses it for the past 30 years, including by using armed forces with the aim of overthrowing unwanted governments. Vladimir Putin has already stated that Washington is interfering in foreign political processes around the world, but he is offended by Moscow, which allegedly interfered in their elections, although in fact for Russia there is no point.
State Duma Deputy Andrei Krasov on this occasion accurately noted that the United States and other Western countries should not check the strength of the Russian armed forces on their own experience.