A photo of an aircraft engine appeared on the Internet. It is alleged that we are talking about the engine (known as the "product-30") for the latest Russian fifth-generation aircraft Su-57 (PAK FA). Reports about this resource
PolitRussia
.
A photograph was posted on her Facebook page by the Indian company Tejas-India's MRCA.
The report notes that "the development of a promising Russian fighter of the fifth generation Su-57 is conducted in a secret mode." According to unconfirmed data, the power unit depicted in the photo will be able to develop thrust to 176 kilo-newtons in the afterburner mode.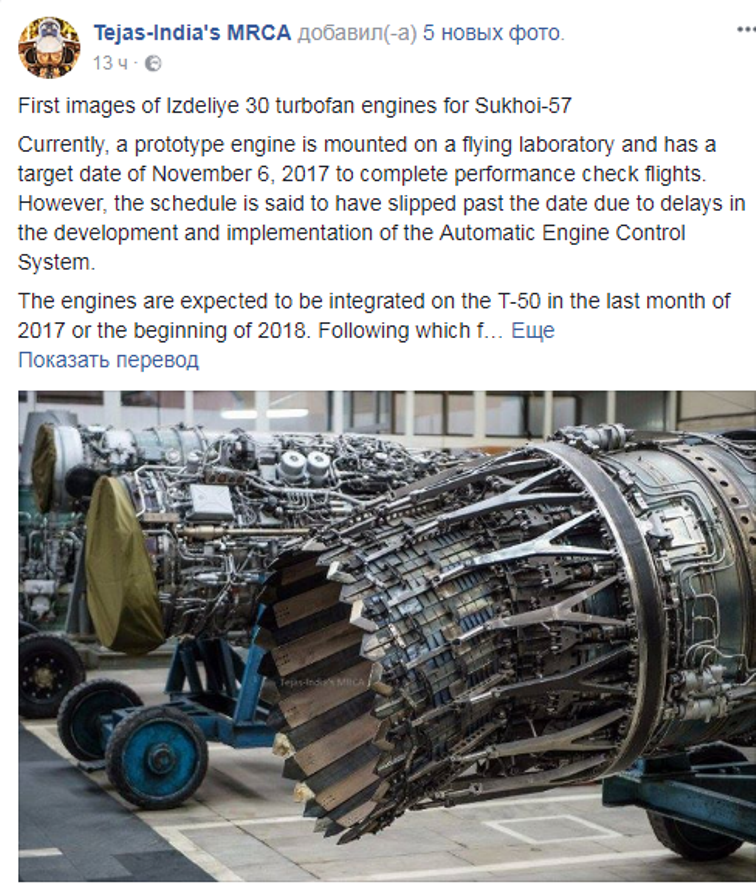 Su-57 (factory index T-50) is a promising fifth-generation Russian multifunctional fighter developed by the Sukhoi Design Bureau in the framework of the PAK FA project. The aircraft is being developed to replace the Su-27 fighter in the Russian Air Force. Earlier it was reported that the first flight of the Su-57 with the engine of the second stage (product 30) will take place in the fourth quarter of the year 2017.
For export deliveries on the basis of Su-57, together with India, it is proposed to create an export modification of the aircraft with the designation "FGFA" (Fifth Generation Fighter Aircraft).