In the workshop of the Remdiesel enterprise (Naberezhnye Chelny), a fire variant of the MT-LB tracked tractor was noticed, which differs somewhat from the previously developed machines by the presence of attachments, reports
bmpd
.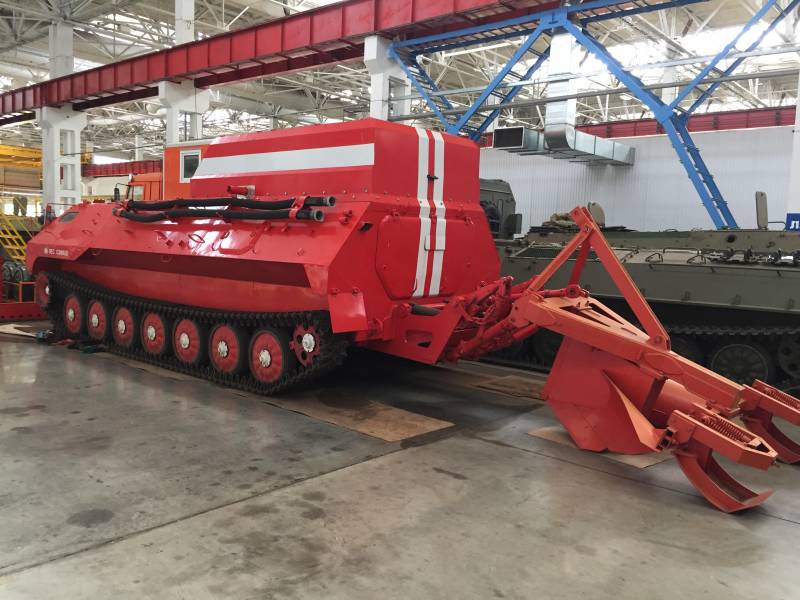 Fire extinguishing machine based on MT-LBU tractor in the workshop of AO Remdizel, 2017 year.
It is reported that "on the chassis of the overhaul of MT-LB and MT-LBu, pumping equipment and water-filled fire monitors were installed using a fundamentally new extinguishing technology."
According to the resource, "the complex consists of a mobile fire high-performance pumping station based on MT-LBu with a robotic gun carriage of the Purga type UKTP (YAMAL-201 NS) and a self-propelled gun carriage based on MT-LB with robotic gun stoles of the UKTP type "Purga" ("YAMAL-150 LS") ".
The new fire extinguishing technology compared to the existing one "allows in the shortest possible time to ensure reliable extinguishing of large-scale post-emergency fires, fires of flammable liquids in tanks and straits over large areas, fires in ammunition depots," the article notes.
The development is based on the new principle of generating and joint transportation of fire extinguishing foams of different dispersion and multiplicity. This method "allows to increase the range of jets of medium multiplicity 8-10 times, increase the speed of their spreading over the surface of flammable liquids and thus increase the extinguishing rate to 15 - 20 м2 / c".
Combined fire extinguishing installations provide fire extinguishing on 1000 and more square meters. meters in 1-2 minutes. The use of plants on commercially available equipment allows to increase their efficiency at least 5-10 times.