In the water area of ​​Kronstadt, a detachment of counteraction against sabotage forces and means (PDSS) of the Leningrad naval base of the Western District involved in the exercise the newest assault boat 02800, reports
press office
ZVO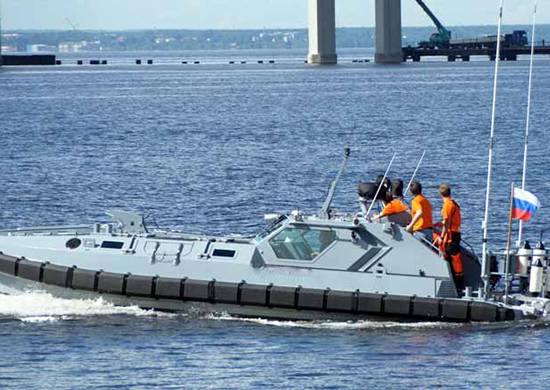 "According to the plan of the exercise, episodes of patrolling the water area of ​​the Kronstadt raid, search and detection of conditional saboteurs penetrating the territory of the naval base have been worked out," the release says.
It is reported that "the PDSS detachment passed the standards for alerting to the use of technical means and weapons, the classes were held using an 02800 air assault boat, which is considered a naval infantry fighting vehicle."
The press service said that "DSHL is designed to carry out patrol and counter-sabotage actions, speed-up delivery of assault and search and inspection teams ashore and delayed ship, fire support for special forces and marines."
The closed compartment of the assault force and the bow of the assault boat are covered with armor protection from bullets, and the cabin windows are armored glass. The speed of the boat is up to 35 knots. It can be armed with any of the large-caliber machine guns such as KPVT, Kord and Utes.
During the exercise, servicemen of the PDSS detachment found conditional saboteurs, defused them and brought them to the shore.
DSHL project 02800 designed and manufactured by the company "TRIDENT Aluminum boats" (Lomonosov, St. Petersburg).