The second submarine Type-209 / 1400 (S42), built in Germany, and the head corvette "El Fateh" class "Govind-2500", built in France, arrived in the main naval base of Egypt, reports
TSAMTO
with reference to Naval Today.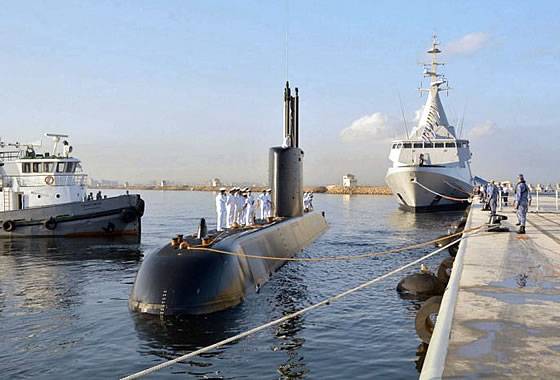 According to the resource, "arrived in Alexandria, diesel-electric submarines and the corvette of October 21 will take part in the celebration of the Day of the Naval Forces of Egypt, which is celebrated since 1973 of the year."
The agreement to build the first pair of Type-209 / 1400 submarines was signed in December 2011. The construction of the head submarine, designated S41, began at ThyssenKrupp Marine Systems (TKMS) in July 2012. Launching took place in October 2015. The boat arrived in Egypt in April of this year. The value of the transaction is not reported.
The contract for the supply of the Egyptian Navy 4-s corvettes class "Govind-2500" was signed in June 2014 year. The agreement provided for the construction during 29 of the lead ship in France and another three at the shipyard in Alexandria. The transaction value is estimated at 1 billion euros.
Construction of the ship led the French company Naval Group (formerly DCNS). The Corvette was laid in April 2015, launched in September 2016.
It is also reported that "within the framework of contractual obligations, DCNS provided all the technical documentation and sent its specialists to Alexandria to assist in the construction of the next ships of the series".