The floating transporters (PTS) of the Syrian army continue to transfer personnel and equipment across the Euphrates River. Despite its age, these machines demonstrate high performance in overcoming water obstacles, unpretentiousness and reliability, writes
Messenger of Mordovia
.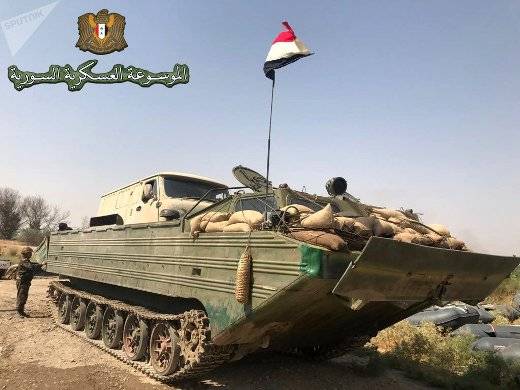 On the Internet there was a photo of this car with a UAZ on board. The transporter is able to transfer even heavier vehicles, such as the ZIL-131, Ural-4320, and others with a total weight of up to 10 t. The Soviet designers have built up in the conveyors an enormous potential that will allow them to successfully complete their combat missions for a long time.
The machine is equipped with an 350 horsepower engine, its speed on the water surface is up to 11 km / h, over land - up to 42 km / h. PTS mass is about 17 tons.
Currently, Omsk designers have developed amphibian PTS-4. "The new machine is better protected, has a booking office division. Now, the fighters will not need to reinforce the front of the machine with sandbags, which should protect them from bullets and shrapnel, "notes the author of the material, Lev Romanov.
There is also a 12,7-mm machine gun with a remote control. Ammunition - 400 ammo. The engine power of the new machine has increased to 840 hp, weight has also increased to 33 tons. Water speed was up to 15 km / h, over land - up to 60 km / h.