Because of the protests in Kiev, prices for services of the so-called "professional maydanschiki" increased,
RIA News
message Ukrainian "Vesti".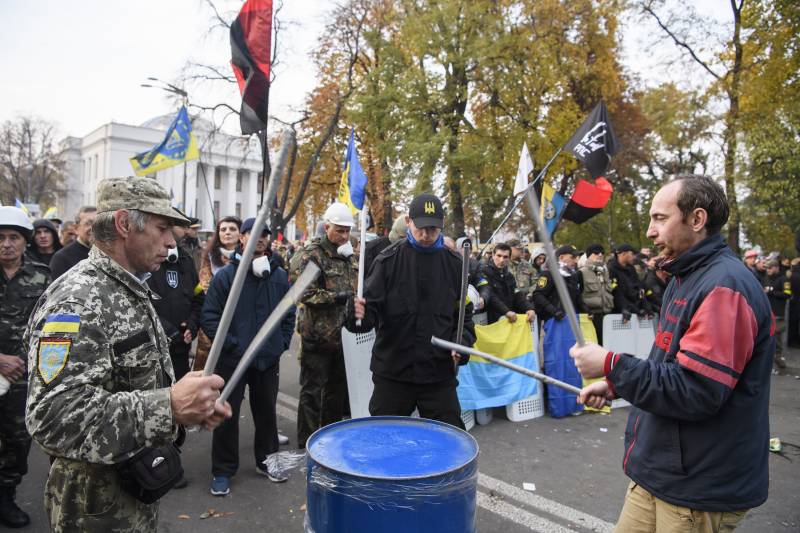 The journalists found out that the average 3 UAH, or about 100 rubles, is paid for the 220 hourly demonstration by the dummy "protestor". Over the month, the price of this "service" has increased 2 times. At the same time, veterans of volunteer battalions who participate in promotions are paid up to $ 50 per hour.
By 140 hryvnia paid to those with flags. But it is much more difficult, because of the habit, hands will hurt a lot, and in no case should you lower it. They may not pay at all
told one of the "front". He added that they pay more to those who come for a few days.
We came from the Vinnitsa region for one of the parties. Travel by bus for free, pay daily. They promised for three days, so we will change in turn to go for a wash. To do this, we specifically rented an apartment
said the source.
Advertising agencies offer to organize a "turnkey rally". Journalists contacted one of these firms under the guise of a customer and found out how much it would cost "to assemble a support group of one high-ranking general."
I have now organized one of these actions. In general, the output of up to five thousand people
told the employee of the company. According to him, "one" protester "will cost about 100 hryvnia per hour."
This is the real price in Kiev. There are discounts - you can collect on the share of grandmothers and students,
he said.
There is a more expensive service - "a real battalion".
But it is very expensive - there is from 50 dollars per person per hour. Say what your budget is there, and we will organize everything: we can attract civilian men, to whom for 35, and dilute them with several fighters,
said the merchant "protesters."
Recall, on Tuesday, several thousand people began a protest near the Rada building. They put forward a number of requirements: to cancel parliamentary immunity, change the electoral legislation and create an anti-corruption court.