Fighters of the "Right Sector" (extremist organization banned in Russia) joined the protest action at the walls of the Verkhovna Rada and are ready to storm the building, the portal reports
"Strana.ua"
.
It is noted that the militants of the "Right Sector" were given the command "not to shine", and they participate in the rally without chevrons. According to journalists, nationalists are ready to begin the assault on the Rada on October 19, if the deputies do not vote for the laws that the opposition demands.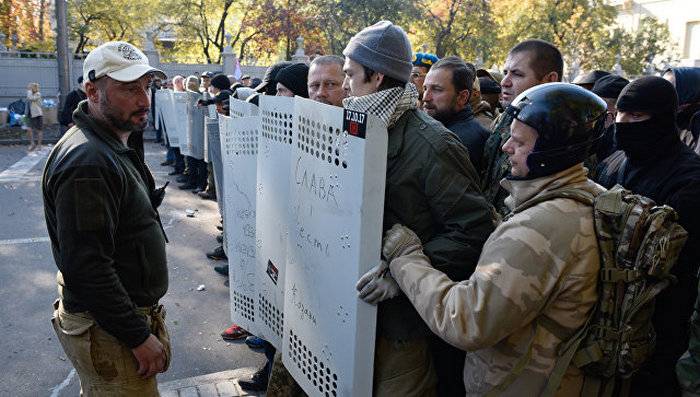 If today the Rada does not vote for the laws, they have a team to go to storm the parliament. All in suspense. He also added that 400 "aunts" had been placed in the hotel "Kiev", which will be released today against the protesters
- informs edition.
In addition, the soldiers of the "Right Sector" told reporters that they know for sure that there is a team from Avakov to clear the square in front of the Rada.
The indefinite action of the opposition at the parliament building began on October 17. They demanded to abolish parliamentary immunity, make changes to the electoral legislation, as well as create an anti-corruption court.
Protesters set up tents and a field kitchen near the walls of the Rada. Among the protesters were representatives of several parties, including the nationalist "Freedom" and the "National Corps", as well as the "Movement of New Forces" by Mikhail Saakashvili, reports
RIA News