The details of the reasons for the decision of the October Court of Krasnodar regarding the extension of the arrest of a citizen of Ukraine Pavel Grib are being clarified.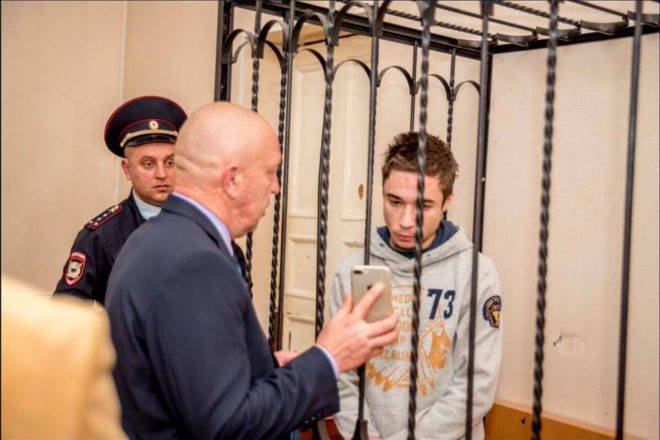 Recall that the Ukrainian side accuses Russia of the fact that the secret services allegedly kidnapped a young man from the territory of Belarus. In the Russian Federation, the accusations are denied, stating that the 19-year-old Ukrainian citizen himself arrived in Russia to meet a girl. His detention (on suspicion of terrorism) was carried out in the Smolensk region, in the city of Yartsevo.
In the Russian investigative bodies say that the Ukrainian was preparing the terrorist act in one of the Russian schools.
Ukrainian portal
"Apostrophe"
cites a court ruling of the Kuban court, which the sister of Pavel Grib referred to the publication:
During the preliminary investigation of the criminal case, it was established that from March 27 to April 13 2017, P. Grib, who is a supporter of the extremist organization UNA-UNSO (* prohibited in the Russian Federation), guided by the ideas of Supremasism ) segregation, being on the territory of Ukraine, by sending text messages in the Ukrainian language in the "Skype" program containing beliefs, suggestions, appeals to the feelings of maximalism, exclusivity and significance, feelings of superiority of Ukrainians over Russians, and also to the feelings of revenge for allegedly existing in the past and present in the present facts of the occupation of primordially-Ukrainian lands by Russia, turned to ___ (the name of the girl-citizen of the Russian Federation, with whom Mushroom communicated in social networks) was missed, to induce her to make IED, bookmark it in the building of the school of secondary schools No. __ in the city of Sochi in the Krasnodar Territory and on the July 30 (probably, "June", note "VO") 2017 of the year on the graduation line in order to destabilize the authorities and the impact on their decision making on the status of individual regions of the Russian Federation ation, ie to commit a terrorist act causing significant damage to other grave consequences, and intentional infliction of the death of a man - an offense under subsection "b" of the Criminal Code ch.3 st.205..
Apparently, the meeting of the Grib with the 17-year-old Russian woman in August 2017 of the year might be necessary due to the fact that no terrorist attack took place - for personal psychological impact on the girl.
For reference: Pavel Grib's father was related to the leadership of the Border Guard Service of Ukraine, and now, as he declares, is engaged in Capellan activity in the Ukrainian security forces.