South Korea supports global lung trend
tanks
. According to defense-blog.com, at the ADEX 2017 exhibition in Seoul, Hanwha Defense introduced the K21-105 tank, created on the basis of the K21 South Korean infantry fighting vehicle.
K21 – 105 is classified as a medium tank and equipped with a 105 caliber mm. Inhabited combat module (tower) CT-CV 105HP developed by the Belgian company CMI Defense. The twin turret can fire with powerful ammunition of the NATO standard M1060CV, which allows the car to fight almost equally against heavy tanks.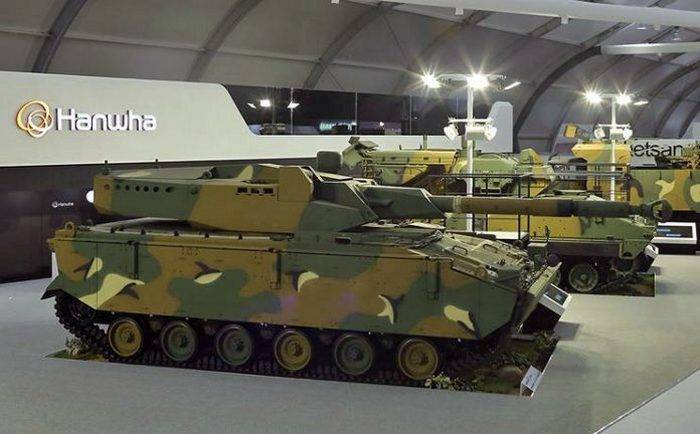 Medium tank K21 – 105.
The low weight and low force of the recoil of the gun in the CT-CV 105HP make it possible to install this turret on relatively light machines, while maintaining air transportability. For example, the total mass of the Piranha III BMP with a CT-CV module is only 17,2 T. In addition, the module has day and night sights with a thermal imager, a hunter-killer system, a panoramic view, a laser range finder, and ammunition are loaded into an automatic loader.
The company Hanwha Defense indicate that the main purpose of K21 – 105 is infantry support. In this case, the tank can be used to destroy armored vehicles and fortifications of the enemy. According to the developers, the vehicle is "substantially cheaper" from main battle tanks and less demanding to service.
BMP K21
In the base case, the K21 BMP weighs 26 and holds the 12 man. Main
weapon
cars - 40-mm automatic gun, aluminum armor protects the crew and troops from armor-piercing large-caliber bullets. Engine power in 740 l. with. accelerates the BMP to 70 km / h, and the light alloy armor allows it to swim over water obstacles by swimming, reports
"Warspot"
.