The details of the meeting of Russian President Vladimir Putin with a colleague from Croatia Kolinda Grabar-Kitarovic are published. According to Grabar-Kitarovic, she presented to the Russian president "the initiative of the three seas." Croatian President quotes
RIA News
:
I presented the initiative of the three seas to President Putin. We are talking about the informal political platform of the countries of Central Europe, which is designed to strengthen European ties and economic cooperation through the construction of transport and energy infrastructure and the creation of digital technologies.
Grabar-Kitarovic noted that "some individuals" consider such a political platform anti-Russian. But the Croatian president says that such statements are not true.
Kolinda Grabar-Kitarovic:
We are not talking about the American Trojan horse. We seek to strengthen cooperation, including with the Russian Federation.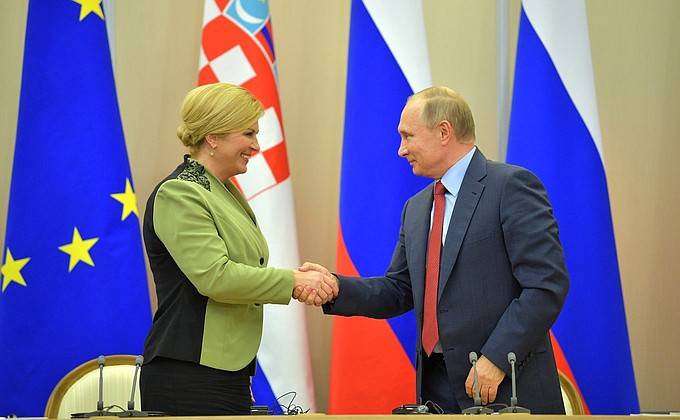 Grabar-Kitarovic noted that the trade turnover between Croatia and Russia began to recover from some time, but added that "the sanctions hit the Croatian people and the Croatian economy painfully."
From the press service of the Kremlin:
The presidents discussed the current state and prospects for the development of Russian-Croatian cooperation.
In addition, the leaders of the two countries exchanged views on key international issues, in particular on the situation in Syria.
Negotiations were held both in a narrow and in an expanded format with the participation of delegations of the two countries.