A few hours after the Prosecutor General of Ukraine Yuriy Lutsenko stated that force methods would not be used against the demonstrators under the walls of the Verkhovna Rada building, the police began storming the tent camp. Special Forces officers from the National Police force began by trying to literally sweep the tents and take the shields away from the protesters.
The representative of the "Self-help" party Yegor Sobolev writes on Facebook:
Special Forces attacked our camp under Parliament. Gasing, kicking on the knees, trying to force people out. The leaders are hiding behind their backs, not explaining who gave such an order and on the basis of what laws they act.
The first videos are published on the Web in which you can see today's clashes between supporters of radical political movements and Ukrainian police officers. In particular, a video of the clashes published by the Ukrainian service
News
UNIAN
.
Recall that the rally began on October 17 "at the call" of Mikhail Saakashvili. The protesters are demanding that parliamentarians withdraw their immunity and enact a number of laws, including the law on so-called anti-corruption courts.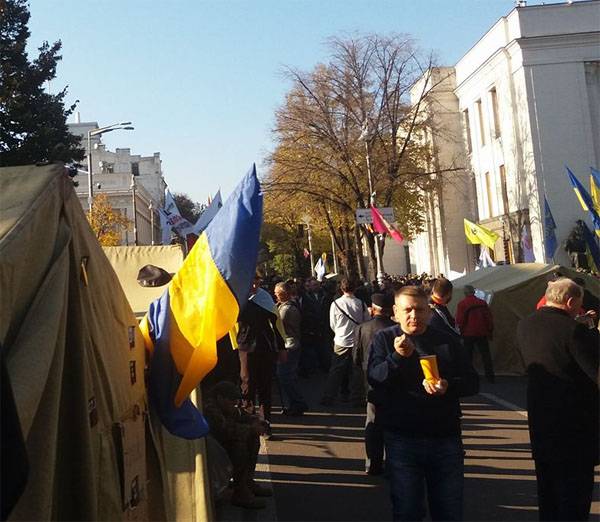 Some time after the start of the assault, the police realized that it would not be possible to disperse the protesters the first time. Representatives of the Ukrainian law enforcement agencies retreated to Constitution Square.
Participants in the rally say that communication problems have begun and the opportunity to publish reports on social networks is often lost.
From the report:
They jam communications within a radius of hundreds of meters under the Rada
It is strange that under the walls of the Rada there are no representatives of the State Department with rolls and speeches that real democracy is being decided in Kiev ...