The administration of US President Donald Trump expressed her readiness to supply the Indian Navy with the latest EMALS electromagnetic catapults, PTI reported, citing sources.
Starting catapults are used on aircraft carriers to accelerate aircraft during takeoff. Currently, overwhelmingly used steam catapults.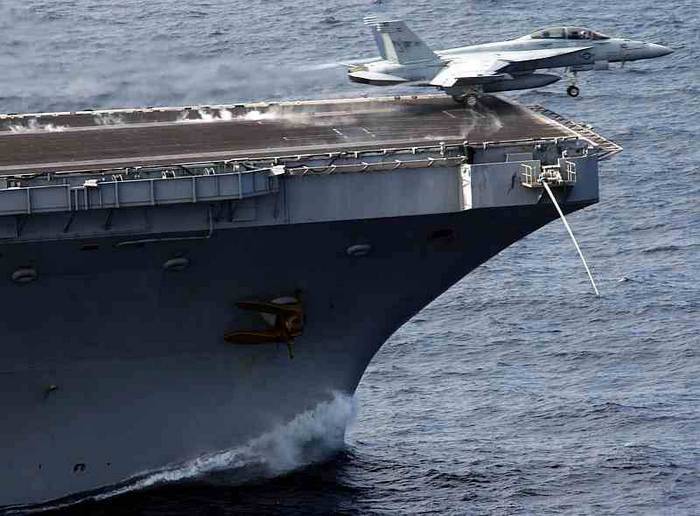 The EMALS (Electromagnetic Aircraft Launch System) system is being developed by General Atomics to replace steam catapults on American aircraft carriers of the Gerald R. Ford class (CVN 78). At the same time, the US Navy has not officially launched a new system.
Compared to steam, an EMALS catapult achieves greater impulse while reducing the overall mass of the catapult and improving a number of characteristics.
India officially showed interest in the new system during the administration of Barack Obama. On Monday, the Trump administration responded to the Indian authorities that Washington was ready to provide India with a new technology in the future, PTI reported, citing knowledgeable sources. The agency notes that the response from the Trump administration came in anticipation of the visit of US Secretary of State Rex Tillerson, which is expected in the coming weeks. In addition, the head of the Pentagon, James Mattis, visited India at the end of September.
In recent years, India and the United States have been stepping up defense cooperation. Last year, under the Obama administration, India gained the status of a "Major Defense Partner of the United States."
In addition, at the end of August of the same year, the countries signed the "Memorandum of Understanding on Logistics Exchange (LEMOA)" - an agreement on military logistics, which allows countries to introduce a convenient payment system to use each other's military bases for technical support, maintenance, refueling and other actions transmits
RIA News
.