Arab newspaper with a registration in London
Al-Shark al-Ausat
publishes material in which he reports on the main topic of talks between Russian Defense Minister Sergei Shoigu and Israeli officials. As it is known, Sergei Shoigu completed his visit to Israel the day before, where he held talks with his colleague Avigdor Lieberman and with other representatives of not only the military department, but also the government as a whole. In particular, Sergei Shoigu was received by Israeli Prime Minister Benjamin Netanyahu.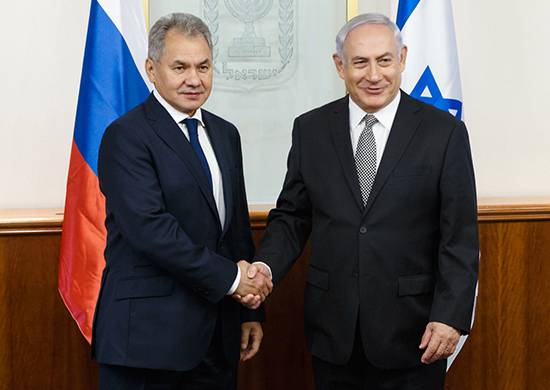 The newspaper stated that the Israeli authorities have asked Sergei Shoigu to influence the Iranian and pro-Iranian forces operating in the Syrian Arab Republic. In particular, one of the topics of the talks was to ensure that the forces of the Islamic Revolutionary Guard Corps and the Hezbollah group did not approach the borders of Israel.
From the material:
Israeli government officials have called on the Russian minister of war to prevent these forces from moving closer to Israeli borders than on 40 km. Sergei Shoigu said that this is too wide a buffer zone, and agreed to create a strip (without the IRGC and Hezbollah) up to 15 km wide.
Earlier it was said that "five kilometers would be enough", which Israel categorically opposed.
Neither the Russian nor the Israeli ministries of defense have yet commented on the publication in this newspaper.