At Rostvertol JSC, the acceptance of the Mi-26T transport helicopter for connecting the army has been completed
aviation
, based in the Khabarovsk Territory, reports
press office
Eastern District.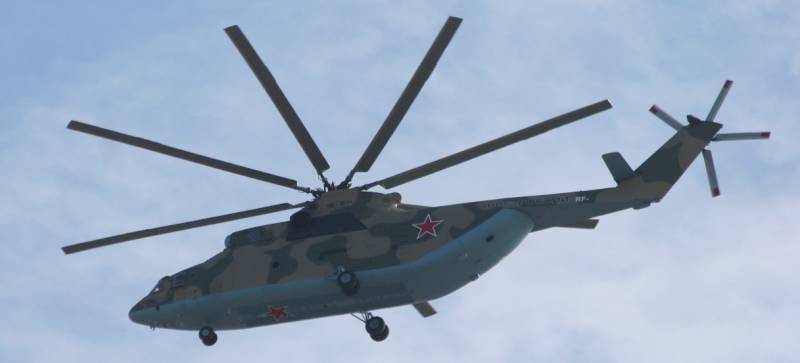 It is reported that "in the near future, the world's largest commercially produced helicopter will fly to a permanently based airfield."
The Mi-26T helicopter is capable of carrying up to 20 tons of cargo, including bulky cargo on an external sling or in a cargo cabin. Today it remains the champion in terms of carrying capacity. The helicopter is built according to a uniaxial scheme with eight-blade main and five-blade tail rotors, two engines 11400 l / s each,
says release.
The press service noted that the pilots of the army aviation compound carry out regular duty in the Arctic area of ​​responsibility of the district. The crew of the Mi-26 "make flights with a range of over four thousand kilometers from Khabarovsk to the airfield of Anadyr (Chukotka Autonomous Region) with several landings on the islands of the Kuril ridge."
For several months, Mi-26 has been carrying out tasks for the delivery of personnel and cargo of various purposes to Wrangel Island and Cape Schmidt.
Bmpd blog comment: "So we are talking about entering the newly formed 18 th brigade of army aviation of the 11 th Red Banner Army Air Force and Air Defense Military Air Force at the Khabarovsk airfield of another new Mi-26 transport helicopter built by Rostvertol JSC (Rostov- on-don) This helicopter with a tail number "12 blue" is the third Mi-26, built on the "Rostvertol" in the 2017 year for the Ministry of Defense of the Russian Federation. "