According to the portal
armyrecognition.com
, at the international exhibition of weapons BIDEC 2017, held these days in Bahrain, was presented the military version of the amphibian boat Iguana Pro of the French company Iguana Yachts
The Iguana Pro boat, equipped with a retractable tracked chassis, was designed for emergency services so that rescuers could quickly navigate the water and, if necessary, go ashore or overcome shallows without leaving the transport.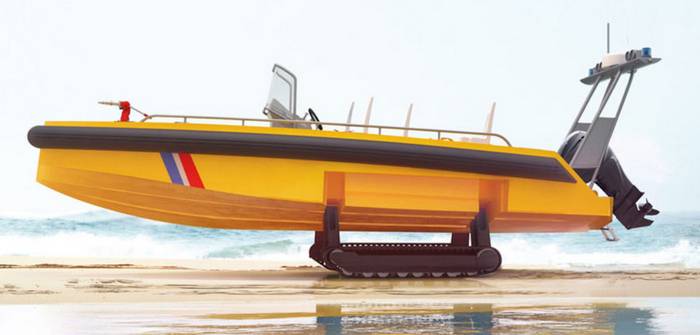 At the exhibition BIDEC 2017, the company presented a modification of the boat Iguana Pro, created for the army. The key distinction of the military amphibian boat from the civilian version is the Ullman Patrol Jockey seats, which are designed to absorb strikes against waves and allow the landing force and crew to perform combat missions for a long time without harm to health.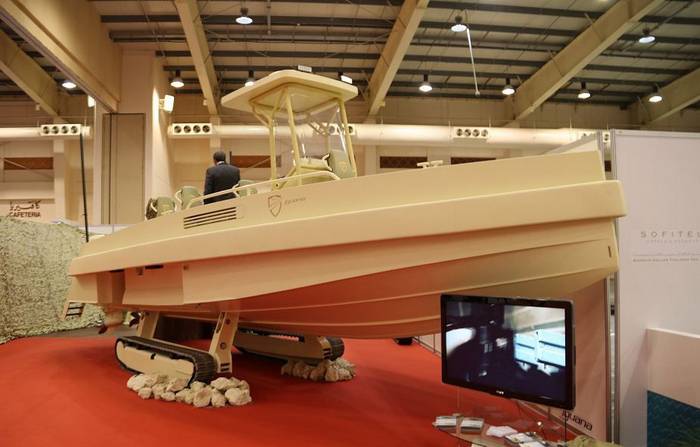 Iguana Pro can reach speeds up to 75 km / h. When you press a special button, the boat releases a pair of tracked chassis and can continue to move along the ground. The developers do not indicate the speed of the boat's movement over land, it's only known that the transition from the floating mode to the ground mode and back takes only 8 seconds.
The company Iguana Yachts declares that its new development can be an alternative to high-speed amphibious assault boats, which are equipped with almost all types of warships and some types of boats. According to the developers, the crawler chassis designed by them is reliable, unpretentious to maintain and can be used both on sand or on the ground and on the rocky shore, reports
"Warspot"
.