The city of Rakka completely passed under the control of the "democratic army". Units of the CAA, with the support of the Russian Aerospace Forces, made significant progress in Deir ez-Zor
FAN
with reference to Syrian sources.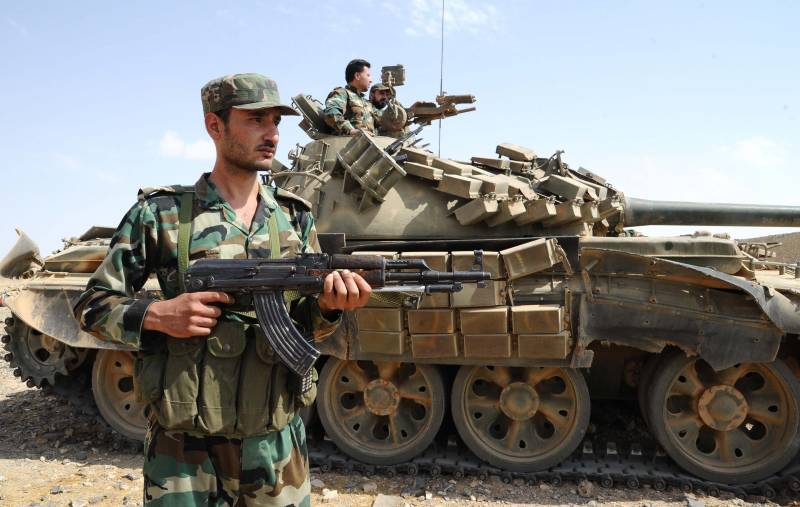 The militants of the opposition forces continued to conduct attacks on the strongholds of the Syrian Arab Army (CAA) in the Ain-Tarma and Dzhobar (Damascus) districts over the past 24 hours, as a result of which Shilka was destroyed. In response, the CAA 15 Brigade opened fire on Islamist fortifications near Beit Naim and Jisrin communities in Eastern Gut.
There was information that during the air raids
aviation
Russia and Syria, near the city of El-Karjateyn (HOMS province), one of the senior IG (grouping is prohibited in the Russian Federation) by the name of Bassam Al-Dahil was liquidated. The terrorist led a military operation to seize the city. During the clearance of the territories of the Akerbat Cauldron, Syrian troops discovered a storage facility with
weapons
and IG ammunition. It is reported that part of the arsenal was Israeli-made.
In the south-west of the province of Deir ez-Zor, near the village of Wadi Al-Waher, IG militants became more active. A suicide bomber committed a self-detonation in the immediate vicinity of the fortified allies of the SAR army, with the result that several fighters of the pro-Assad militia were killed. Clashes continued between parts of the CAA with the support of Russian aviation and the IG grouping at Deir ez-Zor. The fighting took place in the areas of Al-Resaf and Al-Ummal. After a series of combat missions of the Russian Space Forces, the districts of Al-Hassarat, Al-Kenamat and Al-Matar passed under the control of the CAA. In the afternoon, three villages were liberated, as well as the city of Al-Muhassan, located along the Deir ez-Zor-Meyadin highway. In addition, the government army, under the cover of the Russian Aerospace Forces, crossed the Euphrates River north of Meyadin and beat Dyban away from ISIL.
The military operation to seize the city of Rakka is finally over. The city came under the control of the Kurds and the United States supporting them. In the morning, the Syrian Democratic Forces (SDF) occupied the Al-Hurriya quarter and the Al-Naim roundabout, destroying the IG's foreign mercenaries 11. 37 radicals voluntarily surrendered to Kurdish troops. Later, the Kurds seized the building of the National Hospital and the territory of the stadium, eliminating another 22 militant. Thus, Rakka was completely cleaned from the IG. By the end of the day, the SDF began mine clearance work.