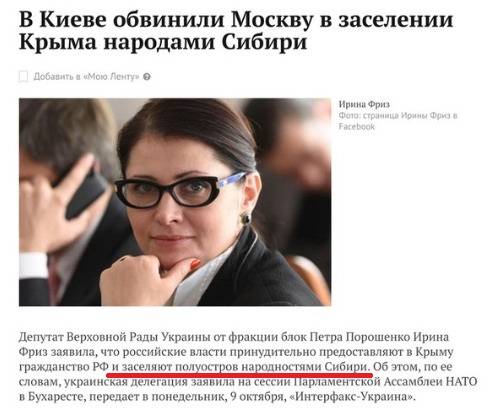 Verkhovna Rada deputy from the Petro Poroshenko bloc, Irina Frise, said that the Russian authorities are occupying the Crimean peninsula with the peoples of Siberia.
The reindeer herder Kundagayev ran into the tent:
- urgently gather, however! Soldiers are coming! Shibko-helluva!
But the Kundagayevs did not have time to escape. From the vehicles surrounding the camp, riot police and the National Guard fled. They walked through the camp, drove people out of their tents, drove them into a pile. Angry shepherds burst from the hands of escorts and rushed at people. When the last inhabitant was found and captured, people were driven forward.
"However, they lead to the railway station," thought Kundagayev. Will take away. Deportation!
Native camp Kundagayevo was not the only one where the disaster descended. Over Chukotka and Buryatia, Evenkiya and Koryakia, Yakutia and Kamchatka stood groans and crying. At the stations, endless trainloads of people were killed.
- Where are they taking? Tell, chief, my very, very much to ask - Kundagayev imploringly looked at the soldier.
"To the Crimea," said the sergeant and the heavy door of the freight car closed the sun with a bang.
Crimea! There was no worse word. A country where there is never snow, no bullets run around, sweet lichen grows, and there are no walruses or seals in the sea. Kundangaev's children were silently silent, his wife wept softly:
- We can not live there. Children have no summer clothes, I have no bikini. We will die there.
Here, behind the gratings of the carriage windows, Tynda and Krasnoangarsk, Krasnoyarsk and Novosibirsk, Omsk and Tyumen flashed by. On the 15-th day, the train approached the Kerch bridge. People looked ahead with fear - they still had hope in their hearts: they may still be taken not to Crimea, but to Taimyr or, in extreme cases, to Karelia ...
The sound of wheels buried their hopes. And as soon as the first car slid down from the bridge onto the Crimean land, a wild cry of grief and hopelessness swept over the train.
They are in Crimea!
In Kerch was sorting.
"Soooo," the officer carefully examined the documents, "Kundagaev mean?" Wife, three children. The place of settlement for you is determined by Theodosius.
- Chief! It is impossible Theodosius. Dzhankoy come on, Simferopol, Bakhchisarai.
- Feodosia do not like? the officer asked with a poisonous smile. - Maybe you want to Yalta?
Kundagayev paled. One name of this city caused horror.
- Do not Yalta! Do not! Feodosia come on.
Kundagayev and his family stood on the shore and looked at the blue expanse of the sea. Her legs burned red-hot stones, the skin on her bare back was blistered with burns. He went to the water and put his hand on the stone, hoping to feel the cold caress of water. The wave covered his hand and Kundagayev with a moan drew it away - the water was treacherously warm.
"My God," her wife whispered, "can you live here?"
"Get used to it," Kundagayev answered hopelessly, "now we are Crimeans."