Today at the Interpolitech-2017 exhibition, the Ulyanovsk Automobile Plant presented an updated line of special cars for various power structures. We are talking about modifications of UAZ vehicles for the Ministry of Internal Affairs, the border services of the Federal Security Service of the Russian Federation, and the FSIN.
In particular, visitors to the exhibition were able to see new border cars and special vehicles for the transportation of prisoners. These are cars based on UAZ PROFI.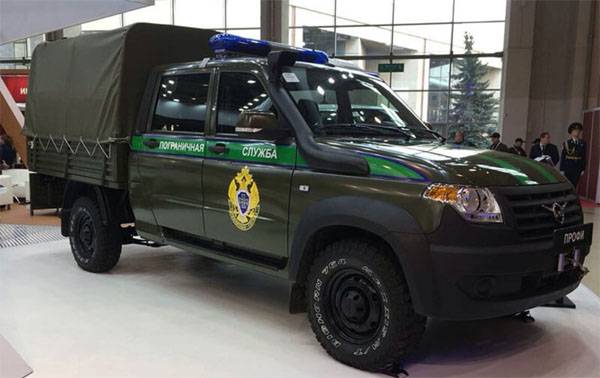 Press office
UAZ companies:
A special UAZ PROFI with a two-row cab, with a drive type of 4 × 2 or 4 × 4, is intended for use in border guard units for the purpose of transporting work orders with service dogs to the place of duty. The car is equipped with a platform with hinged sides, a loudspeaker signal installation, a color chart, a searchlight with remote control, an automatic fire extinguishing system for the engine compartment with a device for starting fire extinguishing agents, engine preheater, additional passenger compartment heater, rear anti-roll bar, four-channel ABS with functions EBD (brake force distribution), winch.
The car that will be used to transport prisoners is equipped with a signal loudspeaker, a video surveillance system in the convoy room, a radio station, a global positioning and navigation system GLONASS \ GPS, as well as means for attaching body armor and protective helmets, four-channel ABS with EBD functions.
Cars were also presented separately for use by the dog service.