In the center of Kiev, it came to direct clashes between protesters and the police. Recall that over the walls of the building of the Verkhovna Rada of Ukraine rally over 5-ti thousand supporters of Mikhail Saakashvili, who called on the current president of the country Petro Poroshenko to resign immediately. There are plenty of other radicals in the crowd who have decided not to miss the opportunity to pomiting.
Representatives of the rally party tried to get closer to the parliament building bypassing the metal detectors, but the National Police and National Guard officers blocked their way. As a result, a scuffle ensued, which eventually resulted in full-scale clashes of the crowd with the Ukrainian security forces.
Several people tried to set up tents a few dozen meters from the building of the Ukrainian parliament, but these attempts were stopped by the police. This caused even greater indignation in the crowd, and stones and smoke bombs flew into the National Police officers.
Over the crowd began to appear flags of the "Right Sector" (* banned in Russia).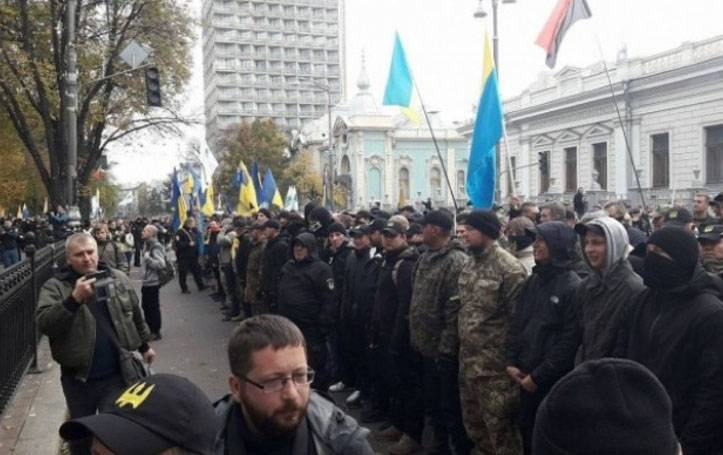 At some point in time of confusion added. Several dozens of people with stripes of the radical Donbass battalion, commanded by Semen Semenchenko, approached the building of the Rada. These people were holding shields. At the same time, it was announced that they were opposed to the so-called "titushki", which they allegedly noticed in the crowd. At that time, Ukrainian media outlets announced that several "strong-built men" broke through into the "Ukrainian House". It was them that were declared "anti-Ukrainian elements."
As a result of clashes, several protesters and law enforcement officers were injured and damaged.
Poroshenko commented on the events in the center of Kiev:
I respect the right to free protest. And I urge everyone to show restraint.