Russia is negotiating with Indonesia on the supply of BT-3F floating armored personnel carriers (BT-2017F), told Rosoboronexport (ROE), the head of the ROE delegation at the gunsmith, Sergei Goreslavsky, during a BIDEC-XNUMX exhibition on Tuesday.
Гореславский отметил, что изначально индонезийская сторона поднимала вопрос об удвоении своего парка
naval
боевых машин пехоты российскими БМП-3Ф. Предполагалось, что переговоры пройдут во время визита индонезийской делегации на международный военно-технический форум "Армия-2017".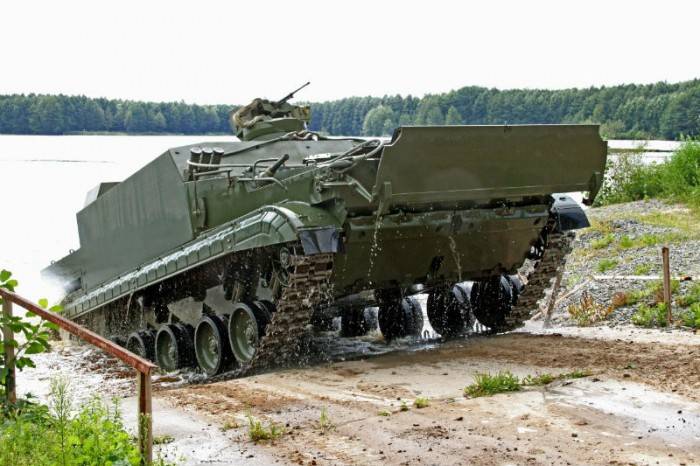 Earlier in some media information was published, according to which Indonesia intends to abandon the purchase of Ukrainian-made floating BTR-4 in favor of the new Russian armored vehicle BT-3F. According to these publications, the Marines of Indonesia, after testing the floating wheeled BTR-4, came to the conclusion that the Ukrainian armored vehicle was excessively "buried" with its nose in the water while overcoming water obstacles at full speed.
BT-3F company development "Kurganmashzavod" was first presented at the forum "Army-2016". It can navigate and parachute from transport aircraft. The crew of the BT-3F is three people, while the armored personnel carrier takes on board up to 14 paratroopers.
A remotely controlled combat module with a machine gun of 7,62 caliber of millimeter with a thermal sight and laser rangefinder is installed on the roof of the combat vehicle. The horsepower 500 diesel engine allows speeding up to 70 kilometers per hour on land and afloat to 10 kilometers per hour, reports
RIA News