Qatari TV Channel
Al-Jazeera
publishes a statement by representatives of the authorities of Iraqi Kurdistan and armed Peshmerga groups after yesterday's seizure of Kirkuk by the Iraqi army under its full control. The command of the Kurdish armed detachments, who left Kirkuk with little or no resistance, today declares that official Baghdad "will pay a higher price." One of the representatives of the Kurdish command called the actions of the Iraqi troops "declaration of war to Kurdistan."
Against this background, it became known that a meeting of the Peshmerga command, the Kurdistan authorities, with representatives of the American coalition was held in Erbil (the administrative center of Iraqi Kurdistan). The main question: the actions of the Iraqi army in Kirkuk. The Kurdish side claims that during the battles that unfolded between the Iraqi Armed Forces and the Peshmerga, the militants of the ISIS terrorist group (* banned in the Russian Federation) took advantage of the situation and managed to capture several villages near Kirkuk.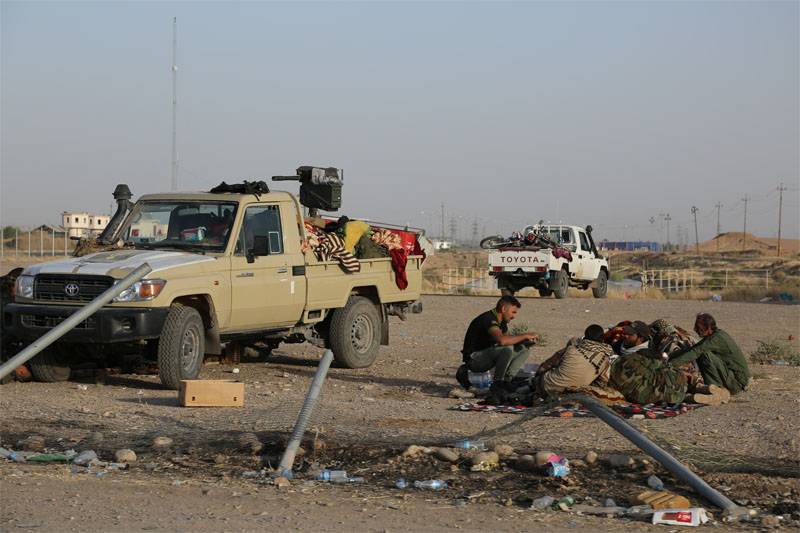 In particular, it is reported that the settlements of Tvelkha and Malha to the west of the city passed under the control of Igilovtsy. It is noted that ISIS (*) entered these settlements in fact at the same time as the entry of Iraqi troops into Kirkuk.
On the eve of the command "Peshmerga" announced that not only Iraqi troops participated in the operation in Kirkuk, but also detachments of the Iranian special forces.