In the center of Kiev, a protest action organized by the ex-governor of the Odessa region, Mikhail Saakashvili, was released by more than five thousand people. The action under the slogan "Take out the goat" takes place under the walls of the building of the Verkhovna Rada. Saakashvili and his supporters are demanding immediate reforms in Ukraine. From the message:
Our primary requirements are depriving deputies of immunity, voting on open party lists and the creation of an anti-corruption court.
The event itself, due to which the center of the Ukrainian capital is blocked by hundreds of national police officers and National Guard soldiers, is called the "anti-corruption council."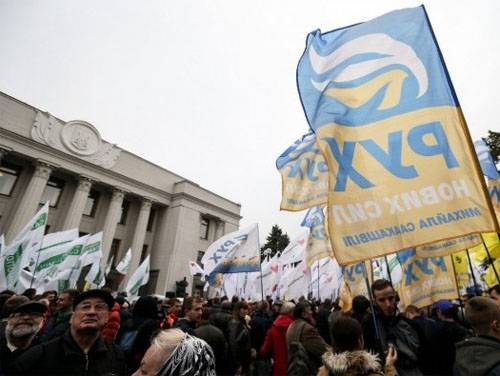 A little more than an hour ago, the protesters heard gunfire. This provoked a panic, but in the end the situation calmed down somewhat. According to the official version of representatives of the Kiev City Council, the artillery battery of the Armed Forces of Ukraine, located not far from the building of the Rada - in the Mariinsky park, gave volleys. From the summary:
This is a solemn salute in honor of the visit of the President of Malta to Ukraine.
Near the building VRU passes the seizure of all that the protesters could use to attack the security forces. Ukrainian television reported that several hammers and chains were removed. In addition, the security forces launched a column of Avtomaidan, which tried to drive to the center of the Ukrainian capital.
Supporters of the Batkivshchyna, Self-Help, Democratic Alliance parties, as well as the party of M. Saakashvili himself, Rukh new forces, take part in the anti-corruption council.