The government of Slovakia plans to buy Russian Tiger armored vehicles on a regular basis, currently negotiations are underway on the supply, the
RIA News
a message from Denis Trifonov, Deputy Director of the Department of Foreign Economic Activity of the Military-Industrial Company.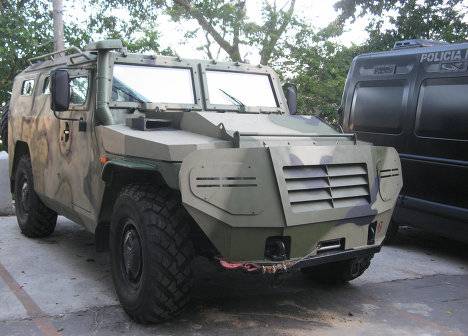 Earlier it was reported that Slovakia acquired one "Tiger" and is interested in new supplies. Thus, Slovakia became the only NATO country to exploit this Russian machine.
We are working with Slovakia, there are, among other things, political issues. This year we do not plan deliveries there, but just next year we expect that the issue with the budgeting of this contract will be resolved. We are talking about regular deliveries of cars
said Trifonov at the BIDEC-2017 arms exhibition in Bahrain.
Interested in Russian armored car and Bahraini authorities.
Most of all, the Bahraini side is interested in the Tigr armored car in the modification of the military-industrial complex 233136 - this vehicle is intended for law enforcement forces. To date, we are discussing the possible volume of purchases and what particular security structures will be interested in this machine. I think that by the end of the year we will be able to get more specific information from the Bahraini side,
told the deputy director.
According to him, the military-industrial complex company "decided to participate in the first Bahraini arms exhibition at the special invitation of the government of this country." Trifonov also noted that today Bahrain is a promising partner of the company, possessing "a good budget and big plans for the modernization of the Armed forces and internal troops."
"Tiger" is a family of Russian multi-purpose off-road vehicles. Designed to transport people and various goods on roads and off-road, as well as the installation of various equipment. Depending on the modification, the vehicle is able to transport from 6 to 10 people, including the driver, or up to 1,2 tons of cargo.