Seventeen fighters of Kurdish Peshmerga were killed and 64 were injured during clashes with the Iraqi army, reports
RIA News
report of the head physician of the hospital in the city of Jam-Jamal Shirzad Hassan.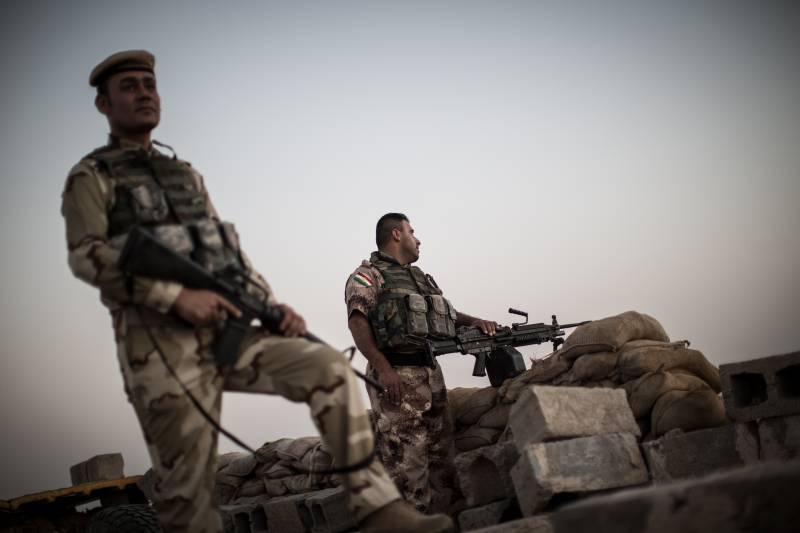 Early in the morning yesterday, government forces launched an operation to regain control of the province of Kirkuk, which for the last 3 of the year was under the direct control of the administration of Iraqi Kurdistan.
Seventeen members of the Peshmerga, as well as the militia were killed, sixty-four were injured,
Hassan told reporters.
According to media reports, the Iraqi army, as well as Shiite militia from the government organization al-Hashd al-Shaabi, almost without resistance, occupied a number of key oil and gas facilities in the province, a military base, and then the city of Kirkuk. Several thousand Kurdish fighters retreated from their positions in the early morning after receiving the appropriate order.
The dead members of the Peshmerga are those who disobeyed the order and decided to resist the Shiite militias,
explained the source to the agency.
According to him, "the Peshmerga detachment commanders responsible for the defense of the eastern borders of Kirkuk province, as well as its administrative capital, are members of the Patriotic Union of Kurdistan Party (PUK)".
A number of high-ranking members of this party, including Pavel Talabani (the son of the recently deceased PUK leader and Iraqi ss-president Jalal Talabani), held separate talks a few days ago with Kasem Suleymani (commander of the Special Corps of the Islamic Revolutionary Guard Corps), the theme of which was the surrender without a fight of the province of Kirkuk,
said the source.
Recall that the conflict between Baghdad and the Kurdish region over the affiliation of the province of Kirkuk aggravated after the holding of the September 25 independence referendum without the consent of the Iraqi authorities.